The problem women face in raising a family and growing in their faith is having a consistent "Quiet Time." Today's guest, author, speaker and mom of three littles, Asheritah Ciuciu can relate. Lee and Asheritah settle in for the misnomer of time in Scripture needing to be quiet, and that hiding from our children during our time with the Lord can be counter productive. Listen in for practical ways we can nurture our family's love for God's word and how God can make our little effort much.

Links:
Books:
Bible and Breakfast: 31Mornings With Jesus by Asheritah Ciuciu
Unwrapping the Names of Jesus: An Advent Devotional by Asheritah Ciuciu
Uncovering the Love of Jesus: A Lent Devotional by Asheritah Ciuciu
Asheritah's website:
SHARE this blog – choose a social media icon to the right or bottom of screen.
GIVE just $20 monthly! Impact More Children & Schools Worldwide for Christ.
About our Guest: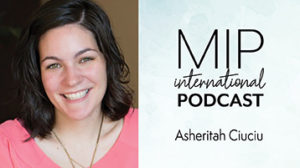 ASHERITAH CIUCIU is a bestselling writer and speaker, wife to her high school sweetheart Flaviu and mama to three spunky kiddos. She grew up in Romania as a missionary kid and studied English and Women's Ministry at Cedarville University. Her passion is helping overwhelmed women find joy in Jesus through creative and consistent time in God's Word