"Our students may lead the way to the next great spiritual awakening and the healing our society needs."  Today, Lee sits down with Jeff Eckart to discuss the COVID crisis, and the possibility of revival in this generation. Listen in as we discuss the way God is moving and the plan for student-led prayer gatherings July 4, 2020 across school campuses.
Links:
Information about the July 2020 event
Never the Same
Claim Your Campus
Apps:
Claim Your Campus App- available in the Itunes store
Podcast:
SHARE this blog – choose a social media icon to the right or bottom of screen.
GIVE just $20 monthly! Impact More Children & Schools Worldwide for Christ.
About our Guest: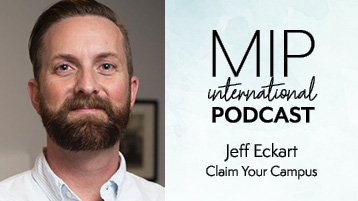 Jeff Eckart is a Christ follower, son, husband, and father of 3 girls. He is the Founder & CEO of Never The Same, a ministry whose focus is uniting students to love God and change the world in which they live through their faith in Jesus. Part of this ministry is a movement called Claim Your Campus, with a vision to unite 1 million students in prayer at every middle school and high school in America. Find out more at neverthesame.org and @jeffeckart