"We are the moms that can pray and turn the tide on the college campus." Today, Stacy sits down with Moms in Prayer's College Liaison, Julie Loos, as she welcomes one and all to join her in strategic prayer for the most influential institution in Western civilization—the college campus. Don't miss the invitation to pray on the Collegiate Day of Prayer coming up on Thursday, February 25.
Links:
Moms Praying for College Students
Moms in Prayer Collegiate Day of Prayer Conference Call February 25th
Collegiate Day of Prayer website
Praying for Gen Z with Dr Sean McDowell
SHARE this blog with a friend – click on a social media icon on screen
About our Guest: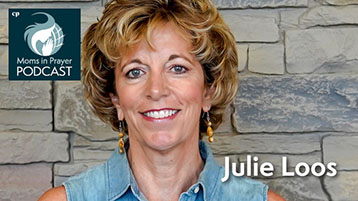 Julie Loos is a writer and speaker with a passion for prayer for college campuses and apologetics training for our youth. Julie is in her twentieth year of leadership with Moms in Prayer International. She currently serves as the national College Groups Liaison, equipping thousands of moms in how to pray strategically for the college campus using her apologetics training and cultural insights. She also believes the campus is a focal point for upcoming revival, spiritual awakening, and cultural change. Julie was a contributing writer to Mama Bear Apologetics: Empowering Your Kids to Challenge Cultural Lies. She is also a proponent for stemming the tide of youth exodus from the faith and worked for the campus apologetics ministry Ratio Christi.
SUBSCRIBE to the Moms in Prayer Podcast!