"The peace of God will guard your heart. That is a treasure that is hidden in thanksgiving." Today Stacy talks with Moms in Prayer International Central America Director, Diana de Fouler, who comes to us all the way from Panama. She is here to give us a sneak peek of the new Moms in Prayer summer Bible study that starts in July. Don't miss a behind the scenes look at this study on the life-changing subject of thanksgiving. It is available in both English and Español and you can sign up today!
SCRIPTURES: (NIV)
Let them give thanks to the LORD for his unfailing love and his wonderful deeds for mankind, for he satisfies the thirsty and fills the hungry with good things. Psalm 107:8-9
Then he took the seven loaves and the fish, and when he had given thanks, he broke them and gave them to the disciples, and they in turn to the people. Matthew 15:36
For I tell you I will not drink again from the fruit of the vine until the kingdom of God comes. And he took bread, gave thanks and broke it, and gave it to them, saying, "This is my body given for you; do this in remembrance of me." In the same way, after the supper he took the cup, saying, "This cup is the new covenant in my blood, which is poured out for you." Luke 22:18-20
Then Jesus said, "Did I not tell you that if you believe, you will see the glory of God?" So they took away the stone. Then Jesus looked up and said, "Father, I thank you that you have heard me. I knew that you always hear me, but I said this for the benefit of the people standing here, that they may believe that you sent me." John 11:40-42
Rejoice in the Lord always. I will say it again: Rejoice! Let your gentleness be evident to all. The Lord is near. Do not be anxious about anything, but in every situation, by prayer and petition, with thanksgiving, present your requests to God. And the peace of God, which transcends all understanding, will guard your hearts and your minds in Christ Jesus. Philippians 4:4-7
Both the one who makes people holy and those who are made holy are of the same family. So Jesus is not ashamed to call them brothers and sisters. Hebrews 2:11
Links:
SHARE this blog with a friend – click on a social media icon on screen
About our Guest: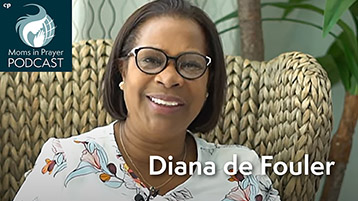 Diana de Fouler is a gifted Bible teacher who has contagious conviction for the power of prayer. She currently serves as the Moms in Prayer Central America Director, overseeing the ministry in Belize, Costa Rica, El Salvador, Guatemala, Honduras, Nicaragua, and Panama. Diana lives in Panama City, Panama with her husband of 39 years. They have two grown children and two wonderful grandchildren.
FOLLOW the Moms in Prayer Podcast!