"We don't have to fear. We can come under the umbrella of God who says, 'Take Me with you in this.'" What a gift to know God is always with us! Today Stacy sits down with author, speaker and Bible teacher, Luanne Botta, to talk about spiritual warfare. Let your heart be filled with courage as Luanne points us to victory— the victory that has already been won by Jesus.
Scriptures: (NIV unless noted)
You prepare a table before me in the presence of my enemies. You anoint my head with oil; my cup overflows. Psalm 23:5
So do not fear, for I am with you; do not be dismayed, for I am your God. I will strengthen you and help you; I will uphold you with my righteous right hand. Isaiah 41:10
The Lord appeared to us in the past, saying: "I have loved you with an everlasting love; I have drawn you with unfailing kindness. Jeremiah 31:3
I have given you authority to trample on snakes and scorpions and to overcome all the power of the enemy; nothing will harm you. Luke 10:19
And pray in the Spirit on all occasions with all kinds of prayers and requests. With this in mind, be alert and always keep on praying for all the Lord's people. Ephesians 6:18
And having disarmed the powers and authorities, he made a public spectacle of them, triumphing over them by the cross. Colossians 2:15
For God has not given us a spirit of fear, but of power and of love and of a sound mind. 2 Timothy 1:7 (NKJV)
Books by Luanne Botta
Spiritual Warfare and the Armor of God
The Warrior Within (for young men)
Young Hearts Pure Lives (for young women)
Links:
Moms in Prayer:
SHARE this blog with a friend – click on a social media icon on screen
About our Guest: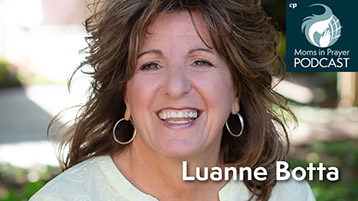 Luanne Botta is an author, Bible teacher and speaker who brings the gospel to life through the Word and personal testimony. Her high energy and joyful spirit of encouragement bring an authentic transparency, making her an endearing and powerful speaker. As a high school teacher at a private Christian academy for almost 20 years, Luanne found herself in a unique role, guiding hundreds of young people through God's Word with her uncompromising, take-no-prisoners way of speaking the truth while still showing them unconditional love. Her passion was igniting them to live their lives with a higher standard than the culture around them. From these years of ministry and the heartache experienced by her students in their teen years, Luanne authored two books to equip young people with the truth, Young Hearts. Pure Lives (for girls), and The Warrior Within (for guys). Her newest release, Spiritual Warfare and the Armor of God, is available now.
FOLLOW the Moms in Prayer Podcast!