"If the gospel is true, reconciliation on earth is always possible." With racial tension on every side, moms must ask, "How do I teach my child about the beauty of diversity?" Today Lee sits down with author Trillia Newbell to discuss the power of the gospel, the necessity of prayer, and the importance of embracing racial unity.
Scriptures:
For our struggle is not against flesh and blood, but against the rulers, against the authorities, against the powers of this dark world and against the spiritual forces of evil in the heavenly realms.  Ephesians 6:12 (NIV)
My brothers, show no partiality as you hold the faith in our Lord Jesus Christ, the Lord of glory.  James 2:1 (ESV)
Books by Trillia Newbell:
Creative God, Colorful Us
God's Very Good Idea 
Links:
SHARE this blog with a friend – click on a social media icon on screen
About our Guest: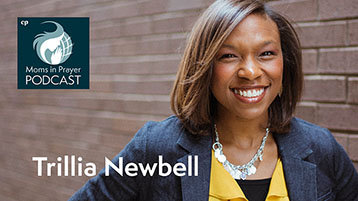 Trillia Newbell is the author of several books, including If God Is For Us, Fear and Faith, and the kids' book God's Very Good Idea. She is married to her best friend, Thern, and they live with their two children near Nashville, Tennessee. Learn more about her at trillianewbell.com.
SUBSCRIBE to the Moms in Prayer Podcast!