"That day I became free from anxiety and fear because the Lord let me see through the light of His Word that He is the unchanging God." Today Stacy welcomes to the podcast Diana de Fouler, our Central America Director, as we continue our series, "Empowered," focusing on the I AM statements of Jesus. Listen in as Diana talks about how we are empowered as moms through knowing Jesus as the Light of the World. This powerful episode is filled with truth that will not only strengthen your faith, but help set you free from fear.
Scriptures (NIV): 
When Jesus spoke again to the people, he said, "I am the light of the world. Whoever follows me will never walk in darkness, but will have the light of life." John 8:12
The people living in darkness have seen a great light; on those living in the land of the shadow of death a light has dawned." Matthew 4:16
"You are the light of the world. A town built on a hill cannot be hidden. Neither do people light a lamp and put it under a bowl. Instead they put it on its stand, and it gives light to everyone in the house. In the same way, let your light shine before others, that they may see your good deeds and glorify your Father in heaven." Matthew 5:14-16
In him was life, and that life was the light of all mankind. The light shines in the darkness, and the darkness has not overcome it. John 1:4-5
The Lord is my light and my salvation— whom shall I fear? Psalm 27:1a
NLT:
I had only heard about you before, but now I have seen you with my own eyes. Job 42:5
And God saw that the light was good. Then he separated the light from the darkness. Genesis 1:4
Links:
SHARE this blog with a friend – click on a social media icon on screen
Free Prayer Sheet, Jesus is the Light of the World
About our Guest: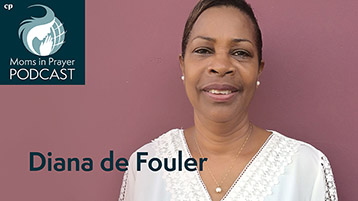 Diana de Fouler is a gifted Bible teacher who has contagious conviction for the power of prayer. She currently serves as the Moms in Prayer Central America Director, overseeing the ministry in Belize, Costa Rica, El Salvador, Guatemala, Honduras, Nicaragua, and Panama. Diana lives in Panama City, Panama with her husband of 39 years. They have two grown children and two wonderful grandchildren.
FOLLOW the Moms in Prayer Podcast!