Moms in Prayer is thrilled to announce we are joining the Christian Parenting Podcast Network. Today, Lee is joined by Cynthia Yanof of Christian Parenting to talk about what this strategic partnership means. Lee and Cynthia also discuss the Yanof family's journey into foster care, and what happens when one family says, "Here we are, Lord, use us."
Show Notes:
Learn more about Christian Parenting
See all the podcasts joining the Christian Parenting Podcast Network
Find out more or register for the Perfectly, Imperfect Christian Parenting Event
Show Sponsor:
Visit https://momsinprayer.org/occ/ to learn more about our partnership with Operation Christmas Child, including a free downloadable prayer card to pack in your shoebox.
SHARE this blog with a friend– click on one of our social media icons on screen
About our Guest: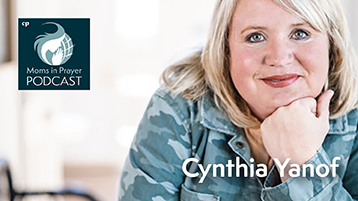 Cynthia Yanof is a wife, mom, blogger, and the host of Pardon the Mess podcast. She has a relaxed style of interviewing, combining her quick wit and sense of humor with a firm commitment to never taking herself too seriously. She loves Jesus, her family, foster care, and having lots of friends around her as often as possible. Cynthia is relatable, real, and a friend to all of us trying to walk the parenting road in a meaningful way that's pleasing to the Lord.