A small but mighty group of five Moms in Prayer (MIP) women, along with two prayer-warrior husbands, traveled last February an hour north to New Haven, Connecticut. Our mission: to pray at the Collegiate Day of Prayer (CDOP) gathering, live-streamed from Yale University to the nation. Little did we know that just two weeks later, our country would be in "lock-down" to stop the spread of the deadly Coronavirus. Worship and prayer gatherings of more than ten people would be on hold for many months.
By 1823 most denominations and universities in the USA were spending at least one day a year praying for revival on college campuses. While this original prayer movement ended after 100 years, ten years ago a new prayer effort for colleges began. The Collegiate Day of Prayer has grown quickly to the point that in the past two years, all 4,000+ college campuses and universities in the USA were adopted in prayer.
That cold winter night at Yale, we were warmed with excitement to be part of an historic prayer movement.
We partnered with students and campus ministry staff members to fervently cry out to God to bring revival on the campus of this major American university.
The prayer sheet, customized by Moms in Prayer College Liaison Julie Loos, walked us through important prayer points.
During the 2020 CDOP simulcast prayer gathering, unity was evident among the leaders from multiple organizations such as Cru, Chi Alpha, and Christian Union, as they focused on the theme of "One" based on John 17.  We "found God at Yale" as we partnered in prayer with students and national and local campus ministry leaders and supporters.
Mary DiMarco, featured above with her husband, is a Moms in Prayer group leader and alumna of Yale graduate school. She remarked, "I still can't get over the wonderful presence of God I felt at the gathering. I was overjoyed to see the unity and love the students had for one another as they passionately worshipped the Lord and prayed fervently for revival. I attended Yale many years ago and never heard about God's love or the gospel while I was there. Five years after graduation, I became born again. My life was totally transformed. Shortly after, I had such a burden to pray for those at Yale. I couldn't hold back the tears that night as I saw the movement of God taking place. What an atmosphere of peace, love and excitement for God!" 
Moms in Prayer group member, Sherri Falco (also featured above) with two sons at Yale, said, "This was a wonderful opportunity to pray for and with the students, for their friends, classmates, and professors."
My husband, Jay, was one of the men who joined us in prayer. As a Yale alum, he was deeply impacted. "I was a bit surprised to see the CDOP held in a small, historic chapel in the middle of campus within steps of where I used to play touch football as a freshman. The space was soon filled with students from various campus Christian groups plus a number of us older folks. As soon as the first praise song began, my eyes welled up as I sang a familiar praise song in a familiar place, realizing I had probably never done such a thing in my four years over half a century ago. The night of students singing for Him and praying fervently truly redeemed the space for me and gave me a new song for the challenging times that followed: Way Maker."
Following the event, Area Coordinator Deborah Burns and I shared the Moms in Prayer ministry with the young women we prayed with and explained why we were there. Their eyes lit up when we mentioned that their moms might want to connect with a MIP group. The powerful prayers and fragrance of Christ these precious students shared with us continue to remind us to pray for them and their families.
Our on-going prayer is that more and more students and professors will turn to God on their campuses as the "Way-Maker" who brings revival and hope in the midst of very difficult days.
Join us for the Moms in Prayer Collegiate Day of Prayer conference call February 25th!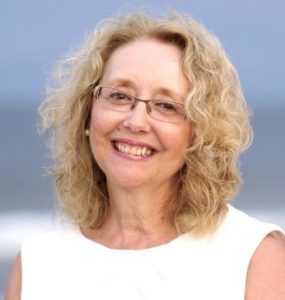 Carolyn Cathey Castelli is a Moms in Prayer Regional Coordinator in New York and member of a College/Career Group. She recently retired as a psychiatric nurse after more than 40 years and is grateful to have more time to serve the Lord through Moms in Prayer. Carolyn is active in her church, relishes reading about history, and enjoys the ocean in the summer and cross-country skiing in the winter. She and her husband look forward to spending more time in person with friends and family this year, including their two daughters, sons-in-love, and four grandchildren.