a letter from USA Prison Ministry Liaison, Nancy Turock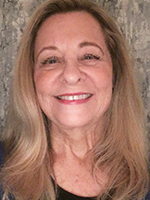 From a Christian Bubble to Praying with Incarcerated Moms
'God works in mysterious ways!' We've all heard it, said it and experienced it. Well, God did something in my life I could've never expected…
Back in 2011, when our three children had all graduated from high school and were off living their lives, my husband and I began settling into the beginnings of being empty nesters. At church we were studying the parable of the Sower and the Seed. The teacher challenged everyone to think about where in our 'unsaved' world we would be sowing the seed that week.
It hit me like a brick. I was in a Christian bubble. When the kids were still here and in public school, their activities meant I was interacting with unbelievers, but not now. I was in multiple Moms in Prayer groups, Bible studies and even a Christian book club! It was then I prayed a dangerous prayer, "Oh Lord, what do you want me to do?" Well, He sent me to jail!
Since 2011, the Lord has allowed me to bring Moms in Prayer to two correctional facilities in my region. He also called me to serve as a State Moms in Prayer Prison Liaison.
This is what I observed:
When a woman is arrested and finds herself locked up, she is usually very scared and desperate in her situation. She is inwardly focused on her problems and spiraling downward emotionally. And, when she has children, that level of anxiety is even more elevated.
Statistics show (and we have observed over the past eight years) that most women in jail or prison have been abused and/or abandoned. Now they are separated from their children and, in a sense, abandoning their own kids. They worry about their kids' care, safety and about possibly losing them.
This is where Moms in Prayer brings such a wonderful hope! A mom will come because she loves her children. This is the first step in looking outside herself to something else. She sits down to hear God's Word as we praise Him and as we silently confess our sins, thank Him and then battle in prayer for her loved ones.
She learns that praying for her children is the best gift she could ever give them, that the Lord hears her pleas for them, and that He loves them even more than she does!
Time after time, we are thrilled to witness women's rigid bodies relax and countenances brighten as we meet our Abba Father in prayer. By the end of the Moms in Prayer hour, we have prayed through the Four Steps of Prayer, they have heard the Gospel message and we have brought all their children before the throne of grace. Many times, they are crying happy, cleansing tears. Moreover, each woman now knows that she can intercede for her precious ones 24/7!
What a joy and privilege it is to meet with incarcerated moms to pray with them for their precious children and grandchildren!
Those who put their hope in you will never be put to shame.  Psalm 25:3 (NIRV)
As a State Prison Liaison, I pray for the Lord to raise up Moms in Prayer volunteers to go into all of the correctional facilities that house women in the state. Each county has a jail where inmates are brought when arrested & await trial. The state has several prisons where those sentenced serve their terms for the crimes they've committed. Women are sent to other states to serve prison sentences if they are federal inmates.
We would love to hear from you if you have a heart or desire to take Moms in Prayer to incarcerated women in the Appalachian region, comprising the states of Kentucky, North Carolina, Tennessee, Virginia, and West Virginia. And we always welcome partners to pray alongside us for volunteers and receptive facilities.
For further information, please contact Nancy Turock, Moms in Prayer USA Prison Ministry Liaison at Prison@MomsInPrayer.org.
---
Peace I Give to You

When the first Moms in Prayer session in a county jail ended, one woman stayed behind, telling the volunteers how amazed she was at the transformation of the women who attended. She noticed that in the beginning, nearly all the women were quiet and reticent; by the end of the time praying together for their children, and as the volunteers could see, "they were hugging and crying and thanking each other."
Incarceration brings many challenges, and it is understandable that inmates are initially reluctant to open up to each other. But "the heart of a mother beats the same everywhere," says Moms in Prayer Founder Fern Nichols. We all have concerns, fears, hopes, and dreams for our children. When mothers, wherever they are, share these in prayer with one another, differences and conflicts are often replaced with empathy and compassion. Praying in one accord for each other's children, their hearts are softened and positive connections are formed. And soon they are rejoicing together in praise and thanksgiving over answered prayers! As these women experience how the Lord works through Moms in Prayer, they also receive the Lord's promise of His spirit of peace, "Peace I leave with you; My peace I give to you." John 14:27.
Our ten State Prison Liaisons, and volunteers in 40 states around the country, report how the important connections made through Moms in Prayer impact inmates and the facilities they are in, beyond the prayer hour. A mother in a large Southern prison shared her dramatically answered prayer with other inmates about her child shortly after coming to the first session – which prompted numerous other mothers to begin attending. Staff at a rehabilitation center on the East Coast told how the weekly sessions have been changing the atmosphere among the women living there.
In the Southwest, new Team Leaders are being trained at the request of a large group of inmates who heard about Moms in Prayer. In the upper Northwest, a mother who'd been attending was transferred to another nearby prison, and she and other inmates there are asking for the volunteers to start a group for them. One woman in a Midwestern state, whose experience in Moms in Prayer transformed her life while incarcerated, is being trained to return to the same facility as a Team Leader! And we know that these Moms in Prayer groups have impact beyond prison walls, since some inmates go on to start a group in their communities upon release.
If you would like to explore whether God may be calling you to bring the peace and power of Moms in Prayer to incarcerated mothers, we would love to hear from you! There is always a need for more volunteers! We provide materials and offer guidance and mentoring to start a new team, or to join an existing one. Or if you'd like to pray for inmates and volunteers in your state, we can connect you with our Prayer Support team. For further information about the Prison Ministry, please contact Nancy Turock at Prison@MomsInPrayer.org.