Precious moms of prodigals—
I'm praying for each of us that this New Year brings renewed resolve to pray our prodigals back into the arms of our Loving and Faithful Savior. As we pray, know that our Powerful, Sovereign God is at work for their good and His Glory!
The image above is a sweet member of my family, Harley. I'm constantly amazed at what God uses in our lives to show us His tender love. Seven years ago, my husband put my oldest son on a plane to a drug rehab on the other side of the country. It was scary and hopeful at the same time. My son's addiction was so severe that we honestly didn't know if we'd see him alive again. Our whole family was weary and hurting. In enters Harley, an adorable Labradoodle puppy. My daughter had been asking for a dog for many years, and we decided it was time. The Lord handpicked this sweet, lovable bundle of fur to bring joy, healing and love to us at a very rough patch in our lives.
All praise be to God. Seven years later, my son, who is now over two years sober, gainfully employed and independent, put a deposit down on a puppy from our breeder. He loves our Harley so much that he wants a dog just like him. How does this give me hope? Well, my son had completely rejected all our values and lifestyle at one point in his life. We have watched as the Lord has been restoring what the locusts have eaten little by little (Joel 2:25).
Our son is now extremely hard working, kinder and accepting of others, and even seeks out our advice. He has not yet returned to the Lord, but God is obviously at work! His Word does not return void but accomplishes His purpose (Isaiah 55:11). God loves our prodigals with an Everlasting Love (Jeremiah 31:3). He will leave the 99 to find the 1 (Luke 15:4).  Finally, let's remember that absolutely nothing is impossible with God (Luke 1:37)!
Whether your prodigal is living a dangerous lifestyle or is successful in life and rejecting the God of his or her youth, rest assured dear sister, God is not done with your precious child! God, the Mighty Warrior, will fight on your behalf for your son or daughter (Deuteronomy 3:22).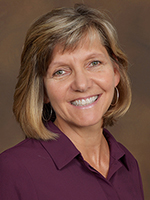 Becky Stokely's journey with Moms in Prayer started when her oldest son was in second grade. Becky says, "The bonds that you form with other praying moms and the love that you feel for their children is truly a gift from the Lord." She has been married to Dan for 26 years and they are blessed with two young adult sons and a teenage daughter. Becky is the Moms in Prayer Prodigal Praying Moms Liaison. You can contact her at Prodigal@MomsInPrayer.org. Visit the Prodigal Praying Moms webpage here.