"God listens and understands. Isn't that what we all desire? To have somebody listen and understand our pain." We are continuing our Moms in the Bible Series with Barb Cole, the Moms in Prayer Mid Atlantic Division Coordinator. You're not going to want to miss a moment of this encouraging episode as she takes us through the account of Hannah. Hope for discouraged moms is here!
Scriptures:
Scriptures on Hannah found in 1 Samuel 1-2
Her husband Elkanah would say to her, "Hannah, why are you weeping? Why don't you eat? Why are you downhearted? Don't I mean more to you than ten sons?"  1 Samuel 1:8 (NIV)
In her deep anguish Hannah prayed to the LORD, weeping bitterly. And she made a vow, saying, "LORD Almighty, if you will only look on your servant's misery and remember me, and not forget your servant but give her a son, then I will give him to the LORD for all the days of his life, and no razor will ever be used on his head."  1 Samuel 1:10-11 (NIV)
Meanwhile, the boy Samuel grew taller and grew in favor with the LORD and with the people.  1 Samuel 2:26 (NLT)
As Samuel grew up, the LORD was with him, and everything Samuel said proved to be reliable. And all Israel, from Dan in the north to Beersheba in the south, knew that Samuel was confirmed as a prophet of the LORD. The LORD continued to appear at Shiloh and gave messages to Samuel there at the Tabernacle.  1 Samuel 3:19-21 (NLT)
"If she marries after she makes a vow or after her lips utter a rash promise by which she obligates herself and her husband hears about it but says nothing to her, then her vows or the pledges by which she obligated herself will stand. But if her husband forbids her when he hears about it, he nullifies the vow that obligates her or the rash promise by which she obligates herself, and the LORD will release her.  Numbers 30:6-8 (NIV)
You, LORD, hear the desire of the afflicted; you encourage them, and you listen to their cry.  Psalm 10:17 (NIV)
He reached down from on high and took hold of me; he drew me out of deep waters. He rescued me from my powerful enemy, from my foes, who were too strong for me. They confronted me in the day of my disaster, but the LORD was my support. He brought me out into a spacious place; he rescued me because he delighted in me.  Psalm 18:16-19 (NIV)
On the day I called, You answered me; You made me bold with strength in my soul.  Psalm 138:3 (NASB)
Links:
SHARE this blog with a friend – click on a social media icon on screen
About our Guest: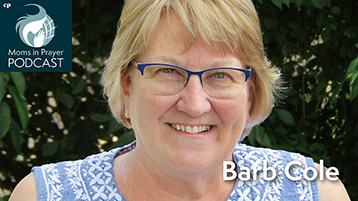 As the Mid Atlantic Division Coordinator, Barb Cole oversees Washington DC, NJ, MD, & DE in addition to her beloved home state of Pennsylvania. She has been involved in Moms in Prayer International for 24 years but didn't start praying in a group until her son was preparing for college. She is grateful the Lord brought this ministry to her attention when she most needed to learn to surrender control to God. Barb has been married to her best friend, Ken, for 46 years. They have two sons, two daughters-in-love and four grandchildren. Barb and Ken serve together in ministry with a local Dinner Church inviting people of all backgrounds to a Jesus Table. She enjoys reading, volunteering at her church's coffee house, hearing other people's stories, mentoring women and children in the Christian faith, and praying for her grown children and grandchildren.
FOLLOW the Moms in Prayer Podcast!