"We serve a mighty God who blesses 1000 generations of those who love Him." Today Stacy sits down with radio talk show host, concert pianist, and Arizona Moms in Prayer Regional Coordinator, Doctor Deborah Joy. She is a fifth-generation Korean believer, here to share the legacy of faith that has been passed down in her family. What you are about to hear is one amazing God story after another. Truly the Lord's faithfulness endures to all generations.
Scripture: 
But now, this is what the LORD says—he who created you, Jacob, he who formed you, Israel: "Do not fear, for I have redeemed you; I have summoned you by name; you are mine. When you pass through the waters, I will be with you; and when you pass through the rivers, they will not sweep over you. When you walk through the fire, you will not be burned; the flames will not set you ablaze. For I am the LORD your God, the Holy One of Israel, your Savior; I give Egypt for your ransom, Cush and Seba in your stead. Since you are precious and honored in my sight, and because I love you, I will give people in exchange for you, nations in exchange for your life. Do not be afraid, for I am with you; I will bring your children from the east and gather you from the west. I will say to the north, 'Give them up!' and to the south, 'Do not hold them back.' Bring my sons from afar and my daughters from the ends of the earth."  Isaiah 43:1-6 (NIV)
Links:
SHARE this blog with a friend – click on a social media icon on screen
About our Guest: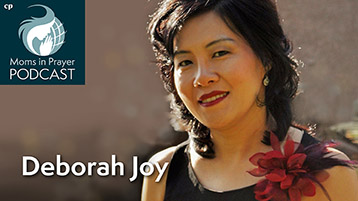 Dr. Deborah Joy is a fifth-generation believer who serves as a speaker, prayer minister, pianist, and life coach in schools, seminars, conferences, and churches. She grew up in a Christian home with three generations of pastors who modeled passionate lifestyles of prayer and worship. As an award-winning concert pianist and composer, she has traveled the world, sharing the testimony of Jesus through evangelism, worship, and concerts. In recent years, Deborah hosted three weekly radio programs, Praying for Your Children, It's Time to Pray the Bible, and Praying for the Next Generation, which aired to Korean and American listeners through Heart and Seoul Gospel Ministries. Deborah, who is a Regional Coordinator for Moms in Prayer in Arizona, was a guest speaker at a Moms in Prayer Conference in Mexico, and was featured at the Arizona Moms in Prayer event, Melody of Hope. Dr. Joy's passion is to fervently pray for the next generation and inspire them to discover their God-given destiny in a culture of Kingdom revival.
FOLLOW the Moms in Prayer Podcast!