"If we can identify ourselves as someone Jesus loves first and foremost, everything else will live out of response to that love." His love changes everything! Today Stacy welcomes the one and only Susie Larson to the podcast. Susie is a national speaker, bestselling author, and host of the daily talk show Susie Larson Live. Listen in as she invites us to a life of continual discovery of the joy and wonder of being so dearly loved by God.
SCRIPTURE: NKJV unless noted
Be still, and know that I am God; I will be exalted among the nations, I will be exalted in the earth! Psalm 46:10
I will walk before the LORD In the land of the living. Psalm 116:9
For we are His workmanship, created in Christ Jesus for good works, which God prepared beforehand that we should walk in them. Ephesians 2:10
For the word of God is living and powerful, and sharper than any two-edged sword, piercing even to the division of soul and spirit, and of joints and marrow, and is a discerner of the thoughts and intents of the heart. Hebrews 4:12
The prayer of a righteous person is powerful and effective. James 5:16b ISV
And we have known and believed the love that God has for us. God is love, and he who abides in love abides in God, and God in him. 1 John 4:16
There is no fear in love; but perfect love casts out fear, because fear involves torment. But he who fears has not been made perfect in love. 1 John 4:18
BOOKS BY SUSIE LARSON
May His Face Shine upon You: 90 Biblical Blessings for Mother & Child
Fully Alive
Strong in Battle
Your Beautiful Purpose
Links
Moms in Prayer
About our Guest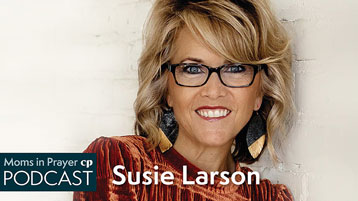 Susie Larson is a national speaker, bestselling author, and host of the daily talk show Susie Larson Live, heard on the Faith Radio Network with over 2.3 million downloads. Susie has written 18 books and many articles. Voted twice as a top-ten finalist for the John C. Maxwell Transformational Leadership Award, she is also a veteran of the fitness field. Susie has been married to Kevin since 1985 and together they have three sons, three daughters-in-law, three beautiful grandchildren, and one pit bull named Memphis. Learn more at susielarson.com.
FOLLOW THE MOMS IN PRAYER PODCAST