For everyone who has been born of God overcomes the world. And this is the victory that has overcome the world—our faith.  1 John 5:4 (ESV)
Centuries ago, Mongolia was one of the largest land empires the world had ever seen—more expansive than even that of Alexander the Great— with some of the most savage conquerors in history! Today, with a population of only 3.2 million, Mongolia is a land nearly forgotten by most of the world, yet not forgotten by God.
It is still hard for me to believe that it was only five years ago when God began Moms in Prayer in Mongolia. Before this, women in this nation were not meeting to pray for their children and schools. At the first Moms in Prayer conference in 2011, mothers shared that they had been crying out to God to help them learn how to pray. The Lord heard their cries. Through Moms in Prayer, the women of Mongolia are learning how to pray powerfully and effectively, to have hope for their children and schools, and to know God more intimately.
Today there are more than 100 Moms in Prayer groups meeting regularly throughout every region of Mongolia and new groups are continually forming. What God began in 2011—the ministry of Moms in Prayer in Mongolia—is now flourishing. As women, young and old, gather across Mongolia to pray scripturally and in one accord, God is opening the floodgates of heaven and answering their prayers in amazing ways. His glory shines through their testimonies:
"For 18 months, our Moms in Prayer group (in the countryside of Mongolia) prayed specifically for a 4th grade class. All 24 students became believers along with the teacher! We also prayed for other teachers at this school and two more became believers."
"As soon as I became a believer in 2012, I joined a Moms in Prayer group. My group has received so many answers to our prayers; God's peace, joy, provision, security, and guidance. I learned how to pray scripturally for the first time. It helped me so much that I reached out to help others and became a leader."
"It is amazing to hear my children say with joy, 'Mom, I believe in God and that your prayer is answered!' This is God's work through Moms in Prayer!"
"Through our prayer group, we have seen our married daughters, who were not able to conceive, become pregnant and a child healed of tuberculosis."
"Behold, I am doing a new thing; now it springs forth, do you not perceive it? 
I will make a way in the wilderness and rivers in the desert."  Isaiah 43:19 (ESV)
God is indeed making a way: the desert that was barren and dry is now being filled with living water. Women are growing in their faith and are being encouraged as other mothers join with them to pray for their children. Salvation, deliverance, freedom, restoration, and healings are ringing out and being proclaimed throughout the land, drawing more and more women into Moms in Prayer groups.
In 2015, while meditating on Isaiah 43:19, God gave me a powerful vision to encourage the praying moms of this nation. The vision was of a river flowing throughout Mongolia. As I looked intently at the river, I saw that there was no water but, instead, it was filled with white stones! There were countless white stones in an endless river. As I asked God to give me understanding, it became clear that this was a picture of Moms in Prayer in Mongolia. The white stones symbolized each of the praying women and, through their tears and cries lifted up to God in one accord, a river of hope and life was being brought to their children and to their nation.
As I thought of the countless number of white stones in the vision, I believe God was revealing that many more women would become a part of His plan to bring revival and restoration to the land. However, I pondered why the stones were white. A few months later, while reading the book of Revelation, I suddenly stopped at Revelation 2:17. The words popped out at me, "To the one who is victorious, I will give some of the hidden manna. I will also give that person a white stone with a new name written on it, known only to the one who receives it" (Emphasis added). Wow! This was the answer to why the stones in the vision were white: the white stones were the victorious ones! The praying women are victorious! What a beautiful, loving picture of how God sees His daughters in Mongolia and in all nations.
As I meditated more on what it meant to be victorious, God reminded me of Revelation 12:11; "And they have conquered him by the blood of the Lamb and by the word of their testimony, for they loved not their lives even unto death." It is by the blood of the Lamb, Jesus, that we are conquerors. The Bible declares in 1 John 5:4 that everyone who is a child of God through faith in Jesus is an overcomer. An overcomer is a victor, a conqueror, and is able to defeat the enemy. That is who we are as His children; we are overcomers! As Christ lives in us by His Spirit, we have power to defeat the enemy, to overcome each trial, and to conquer the battles that come against us and our children. As we put on Jesus, our salvation, take up the sword that is the Word of God and pray, there is power and there is victory!
God has seen the tears and heard the cries of women on behalf of their children and He is raising up a new army of conquerors. He is raising up moms who are fighting on their knees, unleashing the power of God against the enemy, and seeing the victory. His Glory is arising!
To every praying mom who is reading this blog, may you know and be encouraged that God also sees you as a victorious one and has given you a white stone with a new name on it! He hears your cries on behalf of your children and schools. He is making a way in your world. He desires to flow from you in order to bring life and refreshment to the dry and barren land in which you live; to fill it with streams of living water and gardens of fruitfulness.
Pray for Moms in Prayer groups throughout the world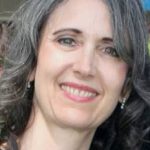 Barb Hawn is the Moms in Prayer International Leadership Developer for Mongolia, China, Vietnam, Hong Kong and Turkmenistan. She is also author of Glory Arising, The Beginning of Moms in Prayer Mongolia. Barb has a heart and passion for the nations and for prayer. She has been serving the nations now for over 20 years. Barb is married to husband, Steve, and the mother of three amazing daughters and two awesome sons-in-law. She has also been a mom to three international students.