"When you combine mama bear and the place of prayer, there's some serious dynamite there." Our special guest knows this dynamite power by personal experience since he is the son of a Moms in Prayer mom. Today Stacy talks with the inspirational Nick Hall, international evangelist and Founder and President of Pulse. Listen in as Nick shares his contagious passion for making Jesus known. And don't miss Nick's invitation to Together 22, the once in a lifetime stadium gathering happening June 24-25 at the historic Cotton Bowl in Dallas, Texas.
SCRIPTURES: (NIV unless noted)
You are the light of the world. A town built on a hill cannot be hidden. Neither do people light a lamp and put it under a bowl. Instead they put it on its stand, and it gives light to everyone in the house. In the same way, let your light shine before others, that they may see your good deeds and glorify your Father in heaven. Matthew 5:14-16
But the tax collector stood at a distance. He would not even look up to heaven, but beat his breast and said, 'God, have mercy on me, a sinner.' Luke 18:13
And I, when I am lifted up from the earth, will draw all people to myself. John 12:32
But you will receive power when the Holy Spirit comes on you; and you will be my witnesses in Jerusalem, and in all Judea and Samaria, and to the ends of the earth. Acts 1:8
So Christ himself gave the apostles, the prophets, the evangelists, the pastors and teachers, to equip his people for works of service, so that the body of Christ may be built up until we all reach unity in the faith and in the knowledge of the Son of God and become mature, attaining to the whole measure of the fullness of Christ. Ephesians 4:11-13
But you be watchful in all things, endure afflictions, do the work of an evangelist, fulfill your ministry. 2 Timothy 4:5 NKJV
And I pray that the sharing of your faith may become effective for the full knowledge of every good thing that is in us for the sake of Christ. Philemon 1:6 ESV
BOOKS BY NICK HALL:
Reset: Jesus Changes Everything
Links:
Moms in Prayer:
SHARE this blog with a friend – click on a social media icon on screen
About our Guest: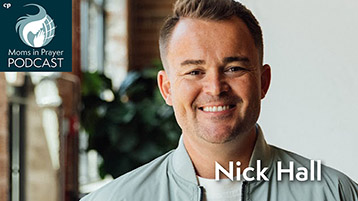 Nick Hall is the Founder and President of Pulse and a leading international evangelist. He holds a position on the Board of Directors Executive Committee of the National Association of Evangelicals. He is the author of Reset: Jesus Changes Everything. Nick founded Pulse in 2006 on his college campus and has since seen 318,244,124 people impacted by the Gospel and 1,997,440 people commit their lives to Jesus through Pulse initiatives. Hall has preached the gospel to millions worldwide through Pulse mega-events such as the 2016 event on the National Mall in DC that drew 400,000+ attendees. During a time when our nation is divided on many things but often silent about the one thing that matters most–knowing Jesus–Hall strives to equip believers to unite, equip, and unleash a generation to make Jesus known.
FOLLOW the Moms in Prayer Podcast!