Being raised in a home that was not Christian, I knew nothing about prayer when I came to faith in Christ as a young adult, age 25. Even just saying grace over a meal was a learning experience. I knew prayer was something I should probably be doing, but I didn't practice it regularly and wasn't sure how to even get started.
When I became a mom a few years later, I felt overwhelmed by the unending needs of my baby and my heartfelt desire to do everything right. My prayers at the time sounded something like this, "God, here's what I need you to do and I need it right now!" It wasn't until my son entered first grade that I joined a prayer group for his school. By then, I was mom to three little ones and up to my eyeballs in parenting.
The Moms in Prayer Four Steps of Prayer format was a revelation to me.
I entered the room for prayer time feeling stressed and worried and left an hour later with a new sense of peace.
I learned to focus on the Lord and His character through praise, rather than starting with my own needs. The practice of praise, confession, and thanksgiving calmed my heart and put me in a place where I could better see the Lord instead of focusing only on my troubles. Moms in Prayer literally taught me how to pray and I was hooked on this prayer thing!
As my children have grown, I've continued to pray with other moms in elementary, middle, and high school groups, and now a group for adult College/Career children. I've been incredibly blessed to meet so many Christian moms and to have the opportunity to pray together over our kids and schools.
A wonderful bond of fellowship is created and nurtured when Christians pray together.
Some of my closest friends today are women I first met in a Moms in Prayer group.
In His Word, God says many things about prayer:
First, prayer is not optional for the believer; it is a core part of our calling. 1 Thessalonians 5:16-18 tells us to "Rejoice always, pray without ceasing, give thanks in all circumstances; for this is the will of God in Christ Jesus for you."
As I discovered, prayer helps us feel less stressed: "Do not be anxious about anything, but in everything, by prayer and petition, with thanksgiving, present your requests to God. And the peace of God, which transcends all understanding, will guard your hearts and your minds in Christ Jesus." Philippians 4:6-7.
Prayer reminds us of God's grace and mercy: "Let us then approach God's throne of grace with confidence, so that we may receive mercy and find grace to help us in our time of need." Hebrews 4:16.
Prayer increases our faith as we see God's answers to our requests: "Now to him who is able to do immeasurably more than all we ask or imagine, according to his power that is at work within us, to him be glory in the church and in Christ Jesus throughout all generations, for ever and ever! Amen." Ephesians 3:20-21.
Recently I heard from a grandmother who also came to faith as a young adult. She got involved in Moms in Prayer as a young mom praying for her own kids. "Moms in Prayer transformed my life!" she told me. Now she is looking to pray for her young grandson to cover the next generation in prayer.
On Saturday, November 12, 2022 praying moms from multiple states will gather for RISE UP VIRGINIA at Burke Community Church outside Washington, D.C. We will hear encouraging messages from dynamic speakers, sing along with our worship team, and fellowship together at tables for lunch. Something amazing happens when the body of Christ gathers to praise our Lord. Fears are stilled, connections are made, and joy arises. I warmly invite you to join us for this special day and to connect with this sweet sisterhood of praying moms!
If you live outside the Virginia area, see our Events Calendar.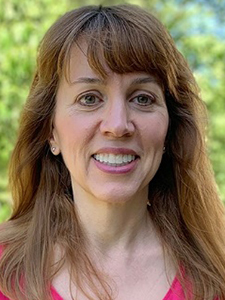 Carolyn Keehan is a mom of three young adult children. She serves as the Virginia State Coordinator for Moms in Prayer, helping moms to locate and start groups to pray for their children and schools. She especially likes connecting with other praying moms. She and her husband are enjoying their empty nest by travelling to new places and serving the Lord together.