Trust in the LORD with all your heart and lean not on your own understanding; in all of your ways submit to him, and he will make your paths straight.  Proverbs 3:5-6 (NIV )
Trusting God to guide our paths and direct us is a constant step of faith, isn't it? In a world where things are always changing, we can be comforted knowing that our God is constant and he is not surprised by any of it. This year has been a year of change and uncertainty and that has been hard on all of us. However, through it all, we have known that God is with us and as praying moms, we can find hope through the power of prayer.
This hope is especially important for us military families to hold onto. When we are rooted in the faith that our God is directing and guiding our steps, we can go where we are led with the assurance that our God goes with us and it is part of His plan.
The life of a military family is not easy, but as hard as this life is with the constant changes, moves and long separations, it is even harder to watch our kids experience it.
I have many vivid memories of our sweet babies saying goodbye to their Dad over the years and experiencing their longing to be together, always made mine stronger. The life of a military child is not one that they have even chosen, which is why tenderness and lots of love is so important as we help them navigate.
The support of a community can make all of the difference. I know that my Moms in Prayer group has been a blessing at each duty station and this is especially true through long deployments. Military moms long to belong and have the support of a community that cares for us and will pray for us. The need for support, prayer and hope is constant as we navigate this military life, but as a mom we need more support as we watch our kids walk through the changes and hardships.
One of the toughest things to watch is our children as they say goodbye to their parent. I know if you asked any military mom to tell you a story about that goodbye, I imagine it would be very vivid. I have many memories of these monumental moments, but one in particular stands out because it was the first time one of my kids had to say goodbye.
I can still remember her purple butterfly wings she was wearing, flapping in the wind. I watched my little girl as she danced around her daddy. Her face lit up and I heard her giggling across the park as she reached up to grab his hand, standing on her tiptoes. I watched him bend down closer to make it easier. She was clearly thrilled to have this time alone at the park with her Daddy. The delight in her eyes should have made my heart soar to see them play like this, but at that moment it only made my heart ache.
She had no idea what was coming and that her Daddy was about to leave for a year-long deployment.
We were trying to enjoy the moment and stay present, but as my husband glanced at his watch, I could see the pure agony come over his face as he realized that the time was slipping away and he would soon have to leave us. He scooped her up in his arms as her little fingers wrapped around his neck and she laid her head on his shoulder, so content to be safe in her daddy's arms. She was at peace and her smile was sweet, but as I watched them, I wondered how she would possibly understand. He carried her to the bench where he tried to explain it all to her. Her little face tipped side to side as she stared in his eyes and then reached up, put her little hands to his face, and kissed his cheek.
It was only later that she began to understand that deployment meant going away for a long time. When my husband came home, our girl would chase him to the door every day and ask him if it was "short work" or "long work." Over time, he was deployed again and I could see the pain when other dads would come to class or be there at a big event. This is something that military kids get used to, though. Other military kids helped her through it, just as she was able to help them when their military parents were gone.
Over the years I have seen military life present all of us with an unprecedented opportunity to touch so many lives.
In order to help themselves and each other, military kids need lots of prayers to get through the hard times. They go through a lot of changes in their young lives, from parents who have to go far away, with the danger of not returning, as well as frequent moves, and the resulting loss of friends and a familiar support system. They have to be strong and they need to trust in God to give them strength, and in prayers to support their efforts.
It is not easy, but as a community we can support them and show appreciation for the sacrifices they must make. One of the best ways for us to support our military families is to embrace them, invite them into our community, and to pray specifically for them.  Would you join me in doing that? When you invite a military mom to pray, it is not only a blessing to them, but to all of us.
Having a Moms in Prayer community as I have walked through long deployments and the constant changes of military life, is one that I pray every military mom will have.
Military life can be very lonely and the longing for community is always present as we move every few years. Having a community like Moms in Prayer to help us feel rooted, pray for our kids, and build friendships, is a wonderful gift to a military mom. And since April is the Month of the Military Child, let's embrace it and let it be a great reminder to invite military moms to pray with us and bring them into our community. May this remind us, also, to pray for military children specifically and often. We can find ways to reach out, embrace and welcome them.
Carry each other's burdens and in this way you will fulfill the law of Christ. Galatians 6:2 (NIV)
Specifics ways we can reach out and love on our military families:
Pay attention when they are newcomers at church, at school or in the neighborhood. Welcome them by introducing yourself and your kids to the new arrivals. Military kids are hoping desperately that someone will put out a welcoming hand to help them. Be that helping hand.

Offer community. It's scary for kids to go to a new school every few years where they don't know anyone. Invite military families to casual barbecues and get-togethers that give them a sense of belonging.

When father-daughter or mother-son activities occur, military kids often lack a partner. Consider inviting them to join you and your child so they feel like they can be part of the special event.

Most military families are far from their families and too often, the only help available to the parent left behind in a new community, is their kids. Offer to help with tasks that can free up the kids to be kids: mow the lawn, shovel show, offer to carpool kids to conflicting sports practices when driving your own kids or grandkids to practice, etc.

Invite military families to community events, movie nights or festivals that they might not know exist. Help them become part of your community.

Invite a military mom to join your Moms in Prayer group, Bible study, or book club. A personal invitation goes a long way.
PRAY WITH MOMS IN YOUR COMMUNITY
SHARE this blog with a friend – click on a social media icon on screen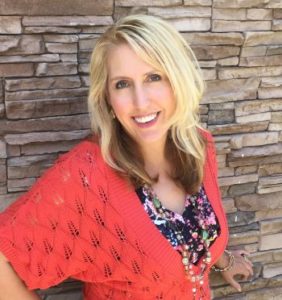 Chantel Mathson serves as the Moms in Prayer International Ministry Development Coordinator and was the Military Families Liaison. She is an inspiring communicator who shares hope and ignites joy in others. Chantel is an International speaker, best-selling author, coach, college professor, military spouse mentor, community builder and tea enthusiast. Her international ministry, Tea With Chantel, helps women follow their God-given purpose, find connection and create community centered on Christ. She shares her heart and home with her husband, three kids and two dogs!
Connect with Chantel at:  teawithchantel.com or facebook.com/teawithchantel Instagram.com/teawithchantel
Military Spouse community: instagram.com/teawithmilitarywives