Parenting in a pandemic is no joke, but what if you could move from panic to powerful.  Today's guest, Moms in Prayer President Sally Burke, sits down with Lee to tell her story of finding faith and her path to a life of prayer. Today's episode is filled with the hope and strategies you need to become a bold prayer warrior despite the news.
BOOKS:
Raise Them Up by Cyndie Claypool de Neve and Sally Burke
Start With Praise! by Cyndie Claypool de Neve and Sally Burke
LINKS:
Learn more about Christian Parenting
See all the podcasts joining the Christian Parenting Podcast Network
SHOW SPONSOR:
Visit https://momsinprayer.org/occ/ to learn more about our partnership with Operation Christmas Child, including a free downloadable prayer card to pack in your shoebox.
SHARE this blog with a friend – click on a social media icon on screen
About our Guest: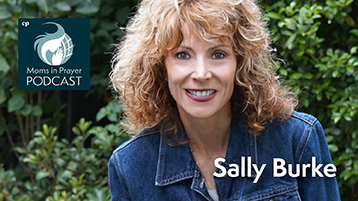 Sally Burke, is a dynamic speaker, teacher, author and the President of Moms in Prayer International. She leads a worldwide ministry that equips and encourages women in the transforming power of prayer. Sally is an avid runner, a fast talker, and a fervent lover of Jesus. Sally and her husband Ed have four grown children, three grand kids, and live in sunny California.