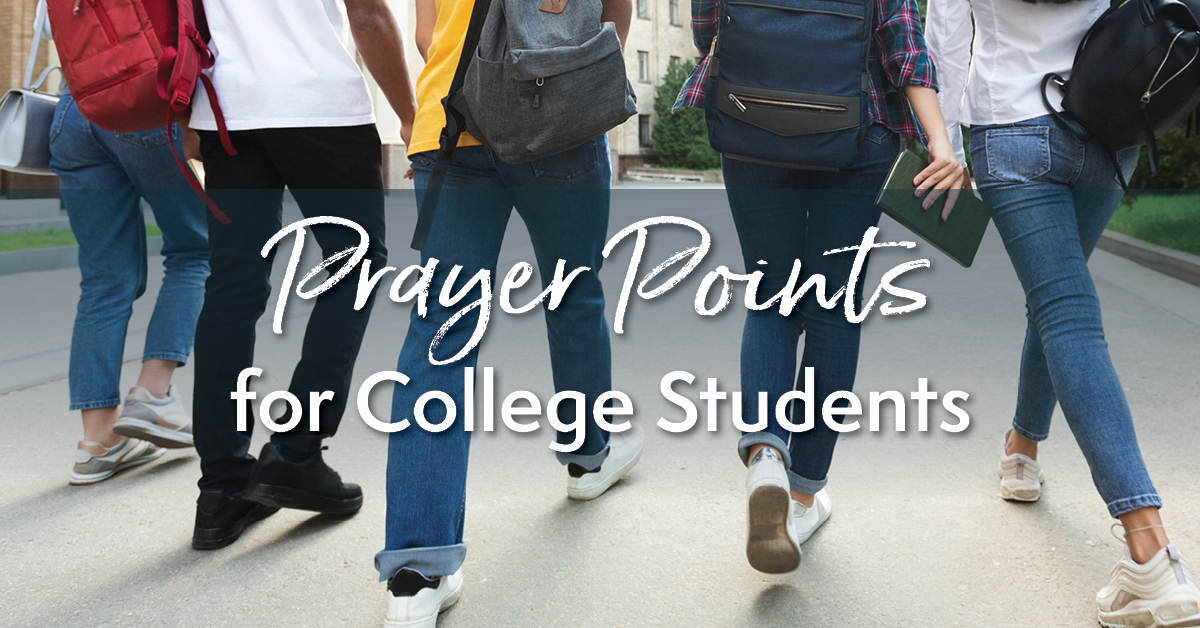 Oct 24-30
Students/Professors/Staff/Administration in: Education, Community, Family, and Personal Services
School/Campus Concerns: For Christian professors to find faculty ministries and connect
Gen Z: Research shows a strong correlation between seeking spiritual help for relational or mental health issues and various measures of well-being.
How to Withstand the Heat
There is no question. On college campuses, the heat is turning up on those who follow Christ.
From cancel culture to free speech and freedom of religion issues, to campus ministries kicked off campus or forced to allow non-Christians into leadership, you'd think King Nebuchadnezzar himself had given the command to make the heat seven times hotter than it's been before.
Daniel and his "roommates" Shadrack, Meshach, and Abednego, demonstrate how our college students can survive the pressure to conform to the spirit of the age.
Their examples point us to ways to pray for Christian students and professors:  
Resolve. Even though Daniel and his buddies had to learn the literature and language of the Babylonians, they made a very important decision from the start. Daniel resolved that he would not defile himself with the things of that world. These guys were true examples of living in the world but not of it. In fact, later when the three friends refused to bow down to the golden image, the king's men said of them to the king, "These men pay no attention to you; they do not serve your gods or worship the golden image which you have set up." That prior resolve led to future self-control. 
PRAY: to have this type of resolve.
Prudence. When Daniel needed to engage with those who did not live by his worldview, including the king and others in authority, he spoke with wisdom and posed choices that saved the others embarrassment, while still protecting his godly lifestyle. As a result, God blessed him and his friends with knowledge and skill in all learning and wisdom.
PRAY: to show respect to those of different belief systems without compromising their own.
Discernment. When the three friends were threatened with death and their God was mocked as not powerful enough to deliver them out of the fiery furnace, they made an astounding statement, "We do not need to give you a reply concerning this." They had the good sense to know when to and not to defend themselves; when to let God speak for them through His actions. Their discernment led to God's power being put on display.
PRAY: to know when to speak up and when to let God be God.
Trust. Their astounding answers did not stop there. After stating they'd rather face the fire than bow to another god, they declared that their God was fully able to deliver them. Then they delivered the mic drop of the century, "But even if he does not, we will never serve your gods or worship the image you have set up."
PRAY: to trust God's answers even if they are not what was requested. 
Yieldedness. As a result of their trust in God, the king honored the three for their resolve not to give into "the world." "…they set aside the king's command and yielded their bodies rather than serve or worship any god except their own God." Because of their actions, they were afforded protection from anyone who would speak against their God, and the king made provision for their religion to be respected even in his pagan, polytheistic culture. Their yieldedness impacted others.
PRAY: to submit to God and not man. 
Note that once thrown bound, into the fire, all three plus a fourth figure were seen walking unharmed. The original language renders it, "the fire did not have power." No power over their bodies, the hairs on their heads, or their clothing. In fact, there wasn't even a hint of smoke on them. Let that sink in and fuel your faith! Their trust led to God's best deliverance in that situation.
As we gather weekly and pray scripturally and specifically in the name of Jesus, let's pray for His will to be done on campus. And that by the witness of our Christian students' and faculty's resolve, Christianity will be protected and respected.
Praying with you for not even a hint of smoke,
Julie
Scripture verses quoted from Daniel 3
Julie Loos, College Groups Liaison
College@MomsInPrayer.org
Pray for College Students – Resources
College Praying Moms Facebook Community
Nov/Dec 2021 Prayer Points
Ask the Holy Spirit each week how to pray Kingdom-minded prayer for each department, campus concern, & for the insights given about Gen Z.
Oct 31-Nov 6
Students/Professors/Staff/Administration in: Chemistry Departments
School/Campus Concerns: "Cancel culture" on campus is rampant and assaults freedom of speech and association, faith, academic discourse, open inquiry, the arts, unpopular or controversial ideas, and much more.
Gen Z: Just 9 % of 19-year-olds are practicing Christians, yet there is a strong correlation between measures of well-being and seeking spiritual help for relational or mental health issues. Pray they will connect/reconnect with faith communities to find help.
Nov 7-13
Students/Professors/Staff/Administration in: Economics Departments
School/Campus Concerns: Pray that in research, in teaching, in learning, and in discussion, all parties will be open to follow the evidence where it leads and not dismiss a biblical worldview because of their presuppositions.
Gen Z: "Young people…are unclear about who to believe and where to turn for advice…Previously unimaginable complexity is creating an epidemic of anxiety…that is ratcheted up in the hearts of the next generation." There is a need for teaching them cultural discernment.
Nov 14-20
Students/Professors/Staff/Administration in: Engineering Departments
School/Campus Concerns: Peace between people with different opinions on vaccination.
Gen Z: "Recent Barna data show that younger non-Christians are significantly more likely to express spiritual curiosity than older non-Christians." Who will be their final authority?
Nov 21-27
Students/Professors/Staff/Administration in: English Departments
School/Campus Concerns: That anything set up in hearts, minds, and traditions as idols on campuses will be torn down and replaced by worshipping the one true God.
Gen Z: Gen Z trusts older generations more than any other social institution, turns to them for advice, and welcomes positive criticism from them.
Nov 28-Dec 4
Students/Professors/Staff/Administration in: Geography Departments
School/Campus Concerns: That as our Christian students and professors walk through the fiery furnace of false ideologies on campus, they will come out not even smelling like smoke.
Gen Z: Gen Z needs churches to help them cultivate cultural discernment, wrestle with doubts and difficult questions, seek truth, and learn within meaningful intergenerational relationships.
Dec 5-11
Students/Professors/Staff/Administration in: Health Administration Departments
School/Campus Concerns: One professor was quoted as saying he serves in the most spiritually dark locale in his entire state. Pray for the darkness to be dispersed by the light of Christ.
Gen Z: Gen Z needs the Word to form and inspire them–words of truth rooted in the reality of the one true God and His word; they need a gospel-centered, not self-centered, identity.
Dec 12-18
Students/Professors/Staff/Administration in: Philosophy Departments
School/Campus Concerns: Challenges and crises facing the nation/world are addressed through research in our universities. Pray for motivations behind that research to be redemptive and God-honoring.
Gen Z: Smartphones don't teach how to differentiate information from knowledge and knowledge from wisdom—Gen Z needs guidance in this area.
Dec 19-Jan 15
Have a wonderful Christmas Break! Prayer points for January and February will resume by January 16. (If your group meets longer in December or starts back sooner in January, use that time to focus on your child's major, friends, roommates, transitions back to school from break, healthy semester mentally and physically, etc.)
All statistics are from Barna and Impact 360 Institute, Gen Z Vol. 2 Caring for Young Souls and Cultivating Resilience 2021. Some information about professors and campus issues have been gleaned from "A Grander Story. An Invitation to Christian Professors" by Rick Hove and Heather Holleman.
---