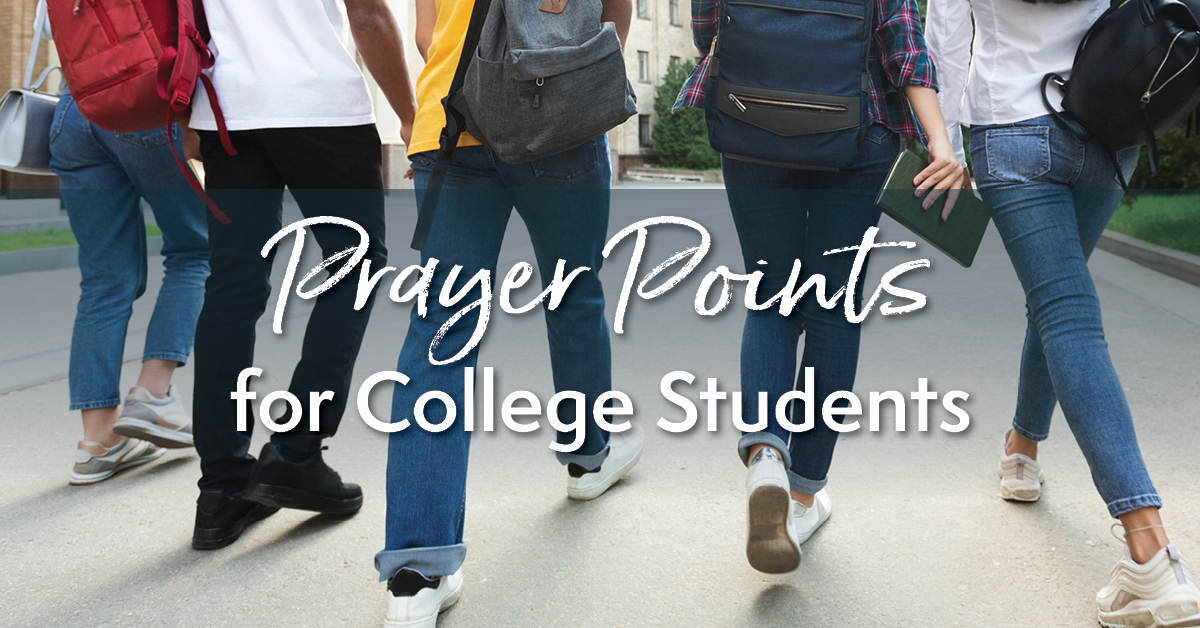 The Collegiate Day of Prayer-Praying Even When You Don't See the Answers
---
Bless you moms for your devotion to pray weekly for our college students and campus issues. You're like a sports team that practices and plays weekly out of discipline and passion.
When the last Thursday of February rolls around each year, it's likely no big thing for you to go to the Collegiate Day of Prayer (CDOP) website and sign up for colleges to adopt in prayer on that one day. This is just what we MIP moms do. So, I thank you in advance for your faithfulness to pray on February 24th, whether you do it on your own, with a group, or on our conference call.
As much as I have studied prayer, taught prayer, and prayed, it is still in many ways a mystery to me. How about you? I think I understand more than ever that we must pray whether or not we will ever be privileged to know how and when God answers. For example, when you adopt colleges you have no connections with, it's likely you won't know the impact of your prayers. You may not even know the impact on colleges you are connected with.
Be encouraged by this testimony from Elena A. Chevalier.* Nearly 50 years ago people she had never met were praying for her while she was in college and not yet a Christ follower. In retrospect, she wondered how many peoples' lives would have been drastically different without the support of faithful strangers who prayed her and other college friends into the kingdom:
Through faithful prayers of those like you, I put my faith in Jesus, and together with my now husband began serving in ministry fresh out of college…Yes, those prayers still bear fruit today–and those who prayed all those years ago may not even know the extent of their impact. Perhaps discouragement threatens to keep you from having the faith to believe your prayers will bear much fruit in such conditions. But God never asked us to have faith in our faith. He tells us to have faith in Him. Although you may never see the harvest personally before eternity…May He enable you to believe Him to impact thousands and bring revival to many hearts and many campuses. And… thank you for praying.
*Testimony from The Collegiate Day of Prayer 30-Day Church Prayer Guide Day 17, pages 32-33.
Collegiate Day of Prayer (CDOP) February 24th:
Julie
Julie Loos, College Groups Liaison
College@MomsInPrayer.org
Pray for College Students – Resources
College Praying Moms Facebook Community
Jan/Feb 2022 Prayer Points
Jan. 17-22
Students/Professors/Staff/Administration in: Visual and performing arts
School/Campus Concerns: From the campus ministry winter conferences/retreats, pray for fruit to develop in students' lives and affect those around them.
Gen Z: Over half (57%) of young people say it will take time to rebuild trust where it was lost (during the pandemic), especially with the church and spiritual gatherings.
Jan. 23-29
Students/Professors/Staff/Administration in: Accounting & Finance
School/Campus Concerns: For God to open doors for gospel conversations on campus, for students and professors to walk through those doors, and for the unsaved to let them in.
Gen Z: Nearly 1 in 5 young people said they lost the practice of attending religious or spiritual services during the pandemic, and about the same percentage said they were happy that this connection was lost. Though nearly half of young people watched at least one religious or spiritual service online, very few said they found joy or hope in these services. Just 12% remarked that they hope virtual services continue after the pandemic.
Jan. 30- Feb. 5
Students/Professors/Staff/Administration in: Nursing and Medicine
School/Campus Concerns: Pray for protection over professors' research—that grants and funding will be given on the merits of the work and not denied due to political reasons.
Gen Z: Young people are more likely to engage with art as a spiritual practice (53%) than prayer (45%), more likely to engage in yoga and martial arts as a spiritual practice (40%) than attend a religious group (25%), and more likely to practice being in nature (45%) or meditation (29%) as spiritual practices than study a religious text (28%).
Feb. 6- 12
Students/Professors/Staff/Administration in: Physical Education
School/Campus Concerns: Pray for the campus climate to allow students to engage with the Bible; and that exposure will lead to engagement, and then to positive impact.
Gen Z: The pandemic brought on uncertainty and instability causing an abrupt detour that upended their expectations and plans. Many missed out on developmental markers and moments that are both formative and singular; once missed, they're gone. 57% of 13–25-year-olds say they expect a lot will be different, in mostly disappointing ways, when the pandemic is over.
Feb. 13-19
Students/Professors/Staff/Administration in: History, Government, Political Science
School/Campus Concerns: Pray for Christian professors to move from a 'task orientation' in their teaching to a 'disciple-making' orientation and see students with the eyes of Jesus.
Gen Z: Faith Unbundled is a term that describes the way young people increasingly construct their faith by combining elements such as beliefs, identity, practices, and community from a variety of religious and non-religious sources, rather than receiving all these things from a single, intact system or tradition.
Feb. 20-26
Students/Professors/Staff/Administration in: Psychology, Sociology, Social Work
School/Campus Concerns: Pray for all campuses in America to be adopted in prayer on Feb. 24, the Collegiate Day of Prayer and for revival and awakening to be ushered in; that campuses which currently have no known gospel ministries will have ministries soon planted.
Gen Z: Only 10% of young people ages 13 to 25 told us that a faith leader reached out to them personally during the pandemic.
Feb. 27-28 will be covered in the first week of March prayer points
All statistics are taken from Springtide Research Institute's "The State of Religion & Young People 2021. Navigating Uncertainty."
---