The COVID pandemic took many mother's desperate situations and made them infinitely more complicated. Today, Lee sits down with our South America Director Veronica Vanzetti, and Venezuela Country Coordinator, Deisy Ordoñez, to talk about the power of prayer and the hope mothers are finding in the most dire circumstances. We also discuss the brand new resource Moms in Prayer is releasing to reach even more moms throughout the world.
Show Notes:
Learn more about Moms in Prayer South America
SHARE this blog with a friend – click on a social media icon on screen
About our Guest:
Moms in Prayer's Director of South America, Veronica Vanzetti, lives and serves from her home in Argentina and Deisy Ordonez serves as the Country Coordinator from her home in Venezuela.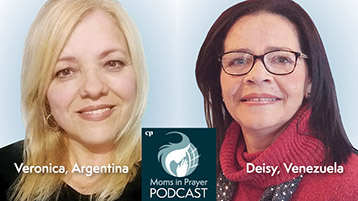 SUBSCRIBE to the Moms in Prayer Podcast!