The gospel changes everything, especially our motherhood. Today's guests, Emily Jensen and Laura Wifler, are the voices behind the Risen Motherhood podcast. Listen in as Lee talks with Emily and Laura about the moments they realized motherhood was about finding Jesus, prayer, and the gift of Jesus in our everyday moments.
Book:
Risen Motherhood: Gospel Hope for Everyday Moments by Emily Jensen and Laura Wifler
About our Guests: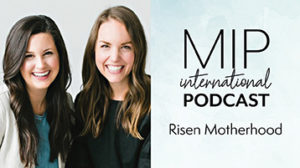 Emily Jensen and Laura Wifler are in the trenches of motherhood, right alongside their readers. With a combination of accessibility, relatability, and solid Biblical knowledge, Emily and Laura have a knack for simplifying complex Biblical truths, revealing how they relate and applying to everyday life. As the co-founders of the Risen Motherhood ministry, and co-hosts of the chart-topping podcast, God has consistently and powerfully used the voices of these two moms as a vehicle to captivate women around the world with the gospel. As sister-in-laws, Emily and Laura both live in central Iowa with their families.