"Discipline is an opportunity to point our children to Jesus." Have you ever thought about discipline this way? Today Lee sits down with Ginger Hubbard, bestselling author and speaker, to discuss the common discipline mistakes parents make and to point us to a better way, the biblical way, that yields a harvest of righteousness.
Scriptures:
No discipline seems enjoyable at the time, but painful. Later on, however, it yields the peaceful fruit of righteousness to those who have been trained by it.  Hebrews 12:11
But let your 'yes' mean 'yes,' and your 'no' mean 'no.' Anything more than this is from the evil one.  Matthew 5:37
The mind of the righteous person thinks before answering, but the mouth of the wicked blurts out evil things.  Proverbs 15:28
Children, obey your parents in everything, for this pleases the Lord.  Colossians 3:20
Let no one deceive himself. If anyone among you thinks he is wise in this age, let him become a fool so that he can become wise.  1 Corinthians 3:18
(CSB Bible version)
Books by Ginger Hubbard:
I Can't Believe You Just Said That
Don't Make Me Count to Three
SHARE this blog with a friend – click on a social media icon on screen
About our Guest: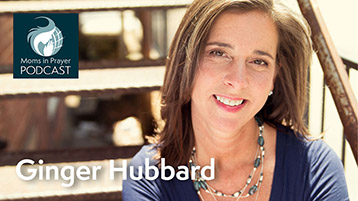 Ginger is the bestselling author of Don't Make Me Count to Three, Wise Words for Moms, and I Can't Believe You Just Said That. She speaks at women's events, parenting conferences and homeschool conventions across the country, and co-hosts the Parenting with Ginger Hubbard podcast. You can check out her parenting resources and find out when she's speaking in or near your area at GingerHubbard.com.
SUBSCRIBE to the Moms in Prayer Podcast!