"We need to look to the Lord when life is good and especially when life is impossibly hard." What a comfort to know we can always count on God! We continue our podcast series Standing in the Gap focusing on amazing intercessors in the Bible. Today Stacy is joined by pastor, teacher, and member of the Moms in Prayer International Board of Directors, Bob Arii. Listen in as Bob shares insights we can learn from King Hezekiah crying out to God in the face of grave danger.

Scriptures
Then Hezekiah prayed before the LORD, and said: "O LORD God of Israel, the One who dwells between the cherubim, You are God, You alone, of all the kingdoms of the earth. You have made heaven and earth. Incline Your ear, O LORD, and hear; open Your eyes, O LORD, and see; and hear the words of Sennacherib, which he has sent to reproach the living God. Truly, LORD, the kings of Assyria have laid waste the nations and their lands, and have cast their gods into the fire; for they were not gods, but the work of men's hands—wood and stone. Therefore they destroyed them. Now therefore, O LORD our God, I pray, save us from his hand, that all the kingdoms of the earth may know that You are the LORD God, You alone." 2 Kings 19:15-19 NKJV
Hezekiah was twenty-five years old when he became king, and he reigned in Jerusalem twenty-nine years. His mother's name was Abijah daughter of Zechariah. He did what was right in the eyes of the LORD, just as his father David had done. 2 Chronicles 29:1-2 NIV
Trust in the LORD with all your heart, and lean not on your own understanding; In all your ways acknowledge Him, and He shall direct your paths. Proverbs 3:5-6 NKJV
I searched for a man among them who would build up a wall and stand in the gap before Me for the land so I would not have to destroy it, but I found no one. Ezekiel 22:30 NASB
Moms in Prayer
About our Guest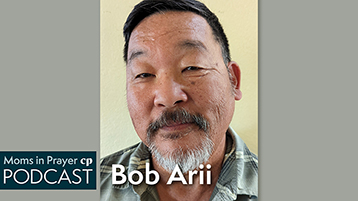 Bob Arii is a retired pastor and school science teacher who continues volunteering at a senior care facility. He provides spiritual care while also leading Bible studies utilizing musical skills with his voice and guitar, singing hymns as part of their time together. Bob also leads a weekly men's Bible study with men from the community and another home group as part of the church they attend (Do pastors ever really retire?). He is passionate about disciples of Christ making disciples of Christ through God's love, grace, mercy, and peace.
Bob and his wife Carrie just celebrated their 40th wedding anniversary. They have two sons. One of them is married and has blessed Bob & Carrie with two grandchildren, a boy and a girl. Of course, they make frequent trips to Colorado to see them.
FOLLOW THE MOMS IN PRAYER PODCAST