"God never just fills our bellies. He fills our homes. He fills our hearts." What a privilege to taste and see God's goodness! Today Stacy welcomes Erin Davis to the podcast. Erin is an author, Bible teacher, fellow podcast host and a whole lot of fun. Listen in to what the Lord revealed to her as she prayed and studied fasting and feasting in the Bible. Set the table and prepare for one amazing insight after another with a heaping helping of laughter on the side.
SCRIPTURE: NKJV
"Oh, taste and see that the Lord is good; Blessed is the man who trusts in Him!" Psalm 34:8
"Jesus said to him, 'If you can believe, all things are possible to him who believes.'
Immediately the father of the child cried out and said with tears, 'Lord, I believe; help my unbelief!'" Mark 9:23-24
"And when He had come into the house, His disciples asked Him privately, 'Why could we not cast it out?' So He said to them, 'This kind can come out by nothing but prayer and fasting.'" Mark 9:28–29
BOOKS BY ERIN DAVIS:
Fasting & Feasting
7 Feasts
A Beautiful Story
Beautiful Encounters
Links:
Moms in Prayer:
About our Guest: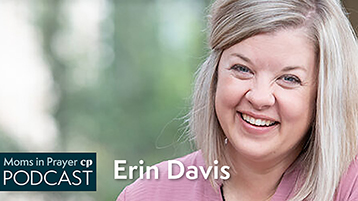 Erin Davis is a writer and teacher passionately committed to getting women of all ages to the deep well of God's Word. She is the author of more than a dozen books and Bible studies, including Connected, 7 Feasts, and Beyond Bath Time. Erin serves as the content director for Revive Our Hearts and hosts the Women of the Bible podcast and Grounded videocast. Hear her teach on The Deep Well with Erin Davis podcast. When she's not writing, you can find Erin chasing chickens and children on her small farm in the Midwest.
FOLLOW THE MOMS IN PRAYER PODCAST