"If Jesus comes at the end of this school year, did we do all we were supposed to do?" What a great question! If this is our last school year to pray, to teach, to point the next generation to Jesus, are we making the most of every opportunity we have been given? Today Stacy talks with educator, author and Moms in Prayer South Carolina State Coordinator, Vanessa Frazier. Listen in as Vanessa inspires us with what a difference even one Christian educator can make. You won't want to miss the contagious passion in this episode because now is our time; our opportunity to make a Kingdom impact.
Scriptures: (NIV unless noted)
I will give you every place where you set your foot, as I promised Moses. Joshua 1:3
Watch and pray so that you will not fall into temptation. The spirit is willing, but the flesh is weak. Matthew 26:41
For I am with you, and no one is going to attack and harm you, because I have many people in this city. Acts 18:10
For our struggle is not against flesh and blood, but against the rulers, against the authorities, against the powers of this dark world and against the spiritual forces of evil in the heavenly realms. Ephesians 6:12
Rejoice always, pray without ceasing, in everything give thanks; for this is the will of God in Christ Jesus for you. 1Thessalonians 5:16-18 NKJV
Books by Vanessa Frazier:
Dear God, Welcome Back to School
Links:
Moms in Prayer:
SHARE this blog with a friend – click on a social media icon on screen
About our Guest: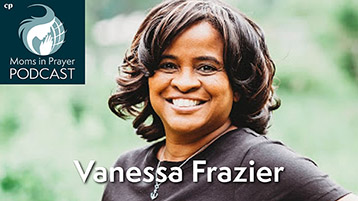 Vanessa Frazier is South Carolina's State Coordinator for Moms in Prayer International. With over 25 years of experience walking and talking with God in national and international schools, she continues to go forward with the Great Commission—making disciples of public school teachers. The author of the book, Dear God, Welcome Back to School, Vanessa serves as a Christian Education coach with the God-given ability to equip and encourage teachers throughout the year. The end result allows educational professionals to draw on the power of God to make extraordinary changes in their classrooms. She recently completed her ED.S in Educational Leadership at Columbia International University and plans to complete her Doctorate in Education in the near future.
FOLLOW the Moms in Prayer Podcast!