Sometimes life's biggest blessings come in the most unexpected packages. Today's guest, Michigan State Coordinator, Linda Aalderink, has found this to be true in her mothering journey. An hour after her first son, Zack, was born, he faced major medical challenges and shortly after was diagnosed with Down Syndrome. Facing an unknown future, Linda turned to her Heavenly Father who brought her Moms in Prayer.

Books:
Immeasurably More: More Hope, More Joy- Embracing Life with Down Syndrome by Linda Aalderink
USA Regional Events:
You are invited to Awaken Hope! Together, we will ask God to awaken the hope that is within us, so that we'll confidently look forward to what He has in store for us. This hope is so rich it will propel you to the great calling God has for you. Come and allow God to fill you to overflowing!

About our Guest: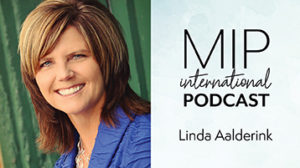 Linda is the Michigan State Coordinator for Moms in Prayer International (MIP) and has been in a MIP group for almost 30 years! She is the author of Immeasurably More – More Hope, More Joy – Embracing Life with Down Syndrome, and loves the relationships and adventures that God has blessed her with. She's been married to Rick for 37 years and they are now enjoying an empty nest after prayerfully launching their children: Zach, Ben and Caroline, and Kassi and Stephen. Linda's new favorite title is Nana, and she and Rick enjoy traveling to visit the grands. When home in West Michigan, they love spending time along the beautiful shores of Lake Michigan.