"Shoeboxes are a Gospel opportunity."  In this episode, Lee is joined by Gracie O'Loughlin and Yuliya Shubina to discuss the power of prayer, the gift of a shoebox and the sharing of the Gospel. Today, you'll hear the girls discuss how shoeboxes and prayer transform both the giver and the children who receive them, and Yuliya shares two sentences in her shoebox letter that changed her life.
Download this episode (right click and save)
Collection Week for Operation Christmas Child is November 12-19,2018.
Read more about Moms in Prayer's relationship with Operation Christmas Child and packing recommendations.
Download the MIP letter to pack in your box.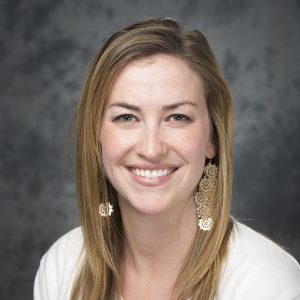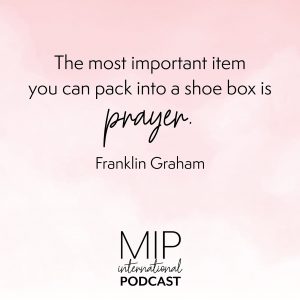 Gracie O'Loughlin serves within Operation Christmas Child, a project of Samaritan's Purse, where she has been for five years. She currently works as the Assistant Director of Promotions and Partnerships, where she has the opportunity to invest in the wonderful relationships between OCC and its partners. Gracie holds a passion in her heart for prayer and loves her wonderful husband of 13 years, Sean, who also serves with Samaritan's Purse.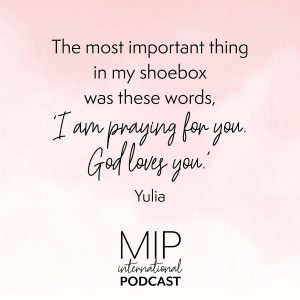 Yuliya Shubina received a shoebox gift in Central Asia when she was 9 years old. There were many beautiful gifts inside, but the most important item was a letter from the girl who had packed the shoebox. Yuliya and the girl exchanged letters for many years afterward, and when Yuliya came to the United States to finish high school, she was able to meet her pen pal in person. During this time, the seeds planted through a shoebox gift many years before led Yuliya to accept Christ. Today Yuliya serves with Operation Christmas Child to tell the story of God's faithfulness in her life.