There is something about the middle of the night that can feel dark and lonely. For the countless moms who spend many of their nights awake—whether they are nursing, worrying about a grown child, or finally taking a moment for themselves— it's a time when all the stress and anxiety of the day can easily rise to the surface of their hearts. Today's guests are the mother-daughter duo of Midnight Mom Devotional and today they sit down with Lee to discuss praying in the night.
Book:
Midnight Mom Devotional by Becky Thompson and Susan K. Pitts
Website:
Follow Midnight Mom Devotional on Facebook for their nightly prayers
SHARE this blog – choose a social media icon to the right or bottom of screen.
GIVE just $20 monthly! Impact More Children & Schools Worldwide for Christ.
About our Guests: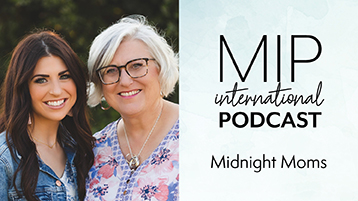 BECKY THOMPSON is the author of the books My Real Story, Truth Unchanging, Hope Unfolding, and Love Unending and speaks frequently to the issues of balancing life as a wife, mother, and daughter of God. She is the founder of the Midnight Mom Devotional Facebook page and is also known to millions as the author of BeckyThompson.com (formerly Scissortail SILK), a blog that reaches a global audience of readers in need of hope, healing, and the Father's love. A recent transplant to the Nashville area, she lives there with her husband, Jared, and their three young children.
SUSAN PITTS lives in Oklahoma City with her husband, Marc. They have been married for 40 years and together host conferences and events, ministering across the state. Pitts spends much of her time as the Midnight Mom Devotional prayer director, praying for the thousands of requests that come in from around the world. She has two adult daughters and three grandchildren. In her free time, Pitts enjoys trying to keep her New England garden alive in Oklahoma red dirt soil.