Arizona State Coordinator, Liz Arnold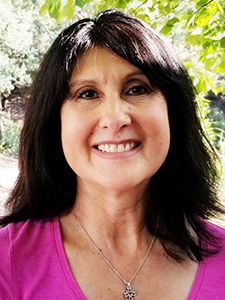 Welcome Arizona women to Moms in Prayer International! Join an army of praying moms all across our state who are passionate about praying for the next generation. You will be thoroughly equipped to usher in a remnant of God's people through fervent prayer. Our prayers bring revival and salvation to the next generation. As State Coordinator, I love seeing women become a reflection of our theme verse, Lamentations 2:19:
"Arise, cry out in the night, as the watches of the night begin; pour out your heart like water in the presence of the Lord. Lift up your hands to him for the lives of your children, who faint from hunger at every street corner."
It is a gift to be able to meet week after week, lifting up the lives of our children and schools in prayer, bathing them in God's word. What a privilege it is to be a witness to God's love and compassion as He responds to our prayers. For years, one of my praying group members would pray every week for my daughter to have Christian friends. We rejoiced the day a Christian friend came into her life! I treasure that moment. Today, she is surrounded by Christian friends.
I would love to hear from you. If you're not in a Moms in Prayer group yet, you need to get connected!
Experience another mom praying for your child and the joy of seeing God at work in your child's school.
You can reach me at: AZ@MomsInPrayer.org
My Moms in Prayer Story
In 2002, a church friend introduced me to Moms in Prayer International. I had no idea how this small conversation about praying for our children and schools would impact my life and family. Praying the four steps of prayer was completely unfamiliar to me, in fact, somewhat awkward. However, the calming voice of my group leader and her passion for Jesus was inspiring. Four months later, I joined a second group for my son's elementary school. Both of these leaders became my spiritual mentors. Oh how I received a sense of peace through prayer and trusting God's care for my children. Moms in Prayer is an essential part of my life.
I'm a native Arizonan and I love serving my home state. I married my husband Gary in 1984. We have adult children, Leah, and Kenneth. Gary and I have a neighborhood ministry and own a management consulting business. We emjoy hiking, camping, and spending time with our family and friends.
"Yes, even when I am old and gray-haired, God, don't forsake me, until I have declared your strength to the next generation, your might to everyone who is to come." Psalm 71:18 (WEB)
What's your Moms in Prayer story? I would love to hear it! If you don't have one yet, make sure to connect with a Moms in Prayer group now.
You can reach me at: AZ@MomsInPrayer.org