"Can you trust the God who has lavishly loved you and your children?" Moms in Prayer Founder, Fern Nichols, joins us today to explore the boundless love of God that we celebrate during the Christmas season. Today concludes our four-part Advent celebration, Moms in Prayer style.
Scriptures:
Isaiah 7:14:  "Therefore the Lord himself will give you a sign: The virgin will be with child and will give birth to a son, and will call him Immanuel."
John 3:16:  "For God so loved the world that He gave his one and only Son, that whoever believes in Him shall not perish but have eternal life."
1 John 3:1a:  "How great is the love the Father has lavished on us, that we should be called children of God! And that is what we are!"
Ephesians 2:8-9:  "For it is by grace you have been saved, through faith— and this not from yourselves, it is the gift of God— not by works, so that no one can boast."
Romans 8:32:  "He who did not spare his own Son, but gave him up for us all- how will he not also, along with him, graciously give us all things."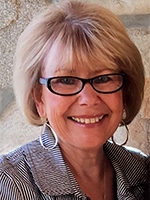 Fern Nichols is the Founder of Moms in Prayer International, a global ministry whose mission is to impact children and schools worldwide for Christ by gathering mothers to pray. She has authored five books and studies including Moms Little Book of Powerful Prayers and When Moms Pray Together, as well as the Booklet used to begin groups in 146 countries around the world and in all 50 US States. She and her husband, Rle, have been married 51 years and have four children and ten precious grandchildren. They make their home in Poway, California.
Angels We Have Heard on High Kevin MacLeod (incompetech.com) Licensed under Creative Commons: By Attribution 3.0 License http://creativecommons.org/licenses/by/3.0/
Silent Night Kevin MacLeod (incompetech.com) Licensed under Creative Commons: By Attribution 3.0 License http://creativecommons.org/licenses/by/3.0/