"You were created on purpose for a good purpose." Today's guest, author and Moms in Prayer mom, Cyndie Claypool de Neve, and Lee sit down to talk about teaching our kids how to find God-confidence. Our children have the opportunity to draw strength from the bedrock truth of who God is rather than chasing self-confidence, which will fail them in the end.  Listen in as we discuss embracing the unique bent God has given each child.
Show Notes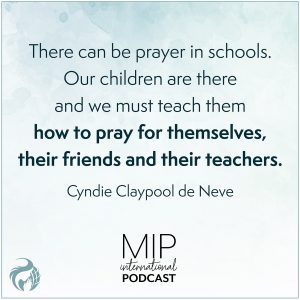 Scripture:
"Now to him who is able to do immeasurably more than all we ask or imagine, according to his power that is at work within us,"  Ephesians 3:20 (NIV)
"For we are God's handiwork, created in Christ Jesus to do good works, which God prepared in advance for us to do."  Ephesians 2:10 (NIV)
Books:
God-Confident Kids: Helping Your Child Find True Purpose, Passion, and Peace by Cyndie Claypool de Neve
Website:
SHARE this blog with a friend – click on a social media icon on screen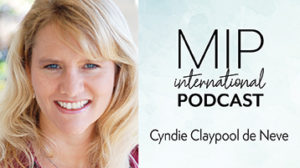 About our Guest:
Cyndie Claypool de Neve, author of "God-Confident Kids," is an Associate Marriage & Family Therapist and a long-time Moms in Prayer leader. Alongside Moms in Prayer International President Sally Burke, she co-authored "Unshaken," "Unshaken Study Guide," "Raise Them Up" and "Start With Praise." As the former Director of Communications for Moms in Prayer, she oversaw the ministry name change and helped establish Bless Our Schools Sunday and the daily scripture prayers. She and her husband, Marcel, are parents to two young adults (ages 19 and 23) and have two rambunctious rescue dogs.