"God is going to give us faith building opportunities to show us who He is." Today we continue our Moms in the Bible Series with host Stacy and guest Joy Moreau, Moms in Prayer Appalachian Division Coordinator. Listen in as she shares comforting truth. Our God sees us. Our God loves us. Our God has a good plan for our lives and is able to miraculously provide for us.
Scriptures:
Scriptures on Hagar are found in Genesis 16 and 21
She gave this name to the LORD who spoke to her: "You are the God who sees me," for she said, "I have now seen the One who sees me." Genesis 16:13 (NIV)
Links:
SHARE this blog with a friend – click on a social media icon on screen
About our Guest: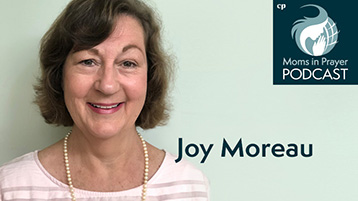 Joy Moreau has the gift of encouragement wrapped in the package of a gentle and quiet spirit. She has been involved in Moms in Prayer for more than 20 years and is currently serving as Appalachian Division Coordinator, leading the states of North Carolina, Kentucky, Tennessee, Virginia and West Virginia. She also leads a Bible study at her home church, University Hills Baptist in Charlotte. The desire of her heart is for the lives of children to be so impacted for Christ that they follow Him all their days. She and her husband, Joe, reside in North Carolina and have three grown sons, a daughter in love, and two grandchildren.
FOLLOW the Moms in Prayer Podcast!