"The safest place to run with our brokenness is to the feet of Jesus." Listen in as Stacy continues the Moms in the Bible series welcoming back our friend, author, and speaker, Lee Nienhuis. As we walk through the stories of Tamar and Rahab, we are going to see what the Lord, our Redeemer, has done, can do, and will do for all who come to Him needing mercy and forgiveness.
Scriptures
Scripture on Tamar found in Genesis 38.
Scripture on Rahab found in Joshua 2 and 6.
Story of the woman who washed the feet of Jesus with her tears found in Luke 7: 36-50.
Judah recognized them immediately and said, "She is more righteous than I am, because I didn't arrange for her to marry my son Shelah."  Genesis 38:26a (NLT)
"I know that the LORD has given you the land, and that the fear of you has fallen upon us, and that all the inhabitants of the land melt away before you. For we have heard how the LORD dried up the water of the Red Sea before you when you came out of Egypt, and what you did to the two kings of the Amorites who were beyond the Jordan, to Sihon and Og, whom you devoted to destruction. And as soon as we heard it, our hearts melted, and there was no spirit left in any man because of you, for the LORD your God, he is God in the heavens above and on the earth beneath. Now then, please swear to me by the LORD that, as I have dealt kindly with you, you also will deal kindly with my father's house, and give me a sure sign that you will save alive my father and mother, my brothers and sisters, and all who belong to them, and deliver our lives from death." And the men said to her, "Our life for yours even to death! If you do not tell this business of ours, then when the LORD gives us the land we will deal kindly and faithfully with you."  Joshua 2:8b-14 (ESV)
Then they remembered that God was their rock, that God Most High was their redeemer.  Psalm 78:35 (NKJV)
Do not fear, for I have redeemed you; I have summoned you by name; you are mine.  Isaiah 43:1b (NIV)
To console those who mourn in Zion, To give them beauty for ashes, The oil of joy for mourning, The garment of praise for the spirit of heaviness; That they may be called trees of righteousness, The planting of the LORD, that He may be glorified."  Isaiah 61:3 (NKJV)
So if the Son sets you free, you will be free indeed.  John 8:36 (NIV)
If we confess our sins, he is faithful and just and will forgive us our sins and purify us from all unrighteousness.  1 John 1:9 (NIV)
Books by Lee Nienhuis
Brave Moms Brave Kids
Counter Cultural Parenting
Links
SHARE this blog with a friend – click on a social media icon on screen
About our Guest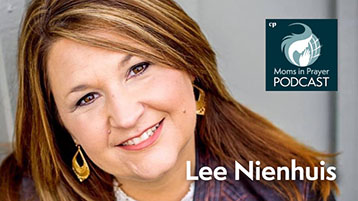 Lee Nienhuis is a passionate Bible teacher whose love for the Lord and the Word is contagious. Lee was the first host of the Moms in Prayer Podcast. With a heart for Inductive Bible Study and missions, she speaks domestically and abroad communicating a dynamic vision for the next generation and biblical literacy. Lee's latest book, Countercultural Parenting, deals with character development in our children. Lee has been featured on Focus on the Family Radio, Rebel Parenting, Proverbs 31 ministries and Revive Our Hearts. Lee and her husband, Mike, have four great kids and live at a Christian Camp in West Michigan.
FOLLOW the Moms in Prayer Podcast!