I have fond memories of my Moms in Prayer sisters. This small group of Christ loving women was led by a military wife who wanted to make Christian friends in her new home in the D.C. area. Like the Moms in Prayer leader, I had just relocated from my hometown of Cincinnati. With my husband and four kids in tow, I placed "getting connected" at the top of my to do list. At that time, volunteering with the school's PTA and serving in my daughters' Girl Scout Troops served as instant connectors.
I still remember my first PTA meeting in this very progressive, quick paced area of the nation. There were a lot of well-dressed women who seemed far more professional than I was. It was very intimidating. Within minutes, I was drawn to one woman in particular whose coal-black eyes danced as she made my acquaintance. Authenticity flowed from her radiant smile. A simple cross dangled from her neck. I knew the Lord had answered my prayer by providing a new friend.

Days turned into years and Pat and I did life together. We co-led a Girl Scout Troop and volunteered with the PTA. We met weekly for coffee and prayer with our Moms in Prayer Group. Pat introduced me to what I thought at the time were radical thoughts around prayer, fasting, prayer closets and the like. That small group of devotees served as a bulwark against some of the cultural demons we knew our kids, and frankly ourselves, were confronting. We armored up, linked arms and spent time on our knees in prayer.
That sisterhood of praying moms was an important first step to understanding the value of community, friendship, influence, and prayer.
I solemnly believe that my experience with Moms in Prayer helped to fertilize the path upon which I was to be called. Moms in Prayer influenced the founding of American Heritage Girls (AHG)!
Today, AHG serves tens of thousands of families who want experiences of faith, service, and fun for their daughters. The cornerstone of the ministry is helping girls understand who they are in Christ. Through teaching life skills, assuming leadership roles, participating in service projects, socializing and engaging in faith-building programs like the Moms in Prayer Patch, AHG accomplishes its mission of building women of integrity through service to God, family, community, and country.
SHARE this blog with a friend – click on a social media icon on screen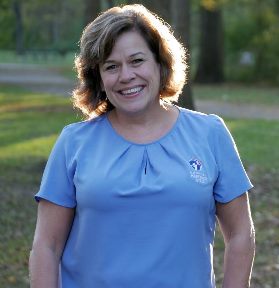 Patti Garibay is Founder and Executive Director of American Heritage Girls, Inc., the premier national character development organization for girls ages 5 to 18 that embraces Christian values and encourages family involvement.