"Isn't this exactly what the Psalmists did? They cried out to the Lord for help in the midst of danger and war." What a timeless gift the Psalms are! Each one offers a glimpse into what a close and deeply personal relationship with the Lord looks like. Today Stacy speaks with Moms in Prayer Director of Europe and Israel, Kathrin Larsen. Listen in as she shares the treasures the Lord revealed to her as she prayed her way through all 150 Psalms.
Scriptures:  NASB 1995
For behold, they have set an ambush for my life; Fierce men launch an attack against me, Not for my transgression nor for my sin, O Lord, For no guilt of mine, they run and set themselves against me. Arouse Yourself to help me, and see! Psalm 59:3-4
Because of his strength I will watch for You, For God is my stronghold. My God in His lovingkindness will meet me; God will let me look triumphantly upon my foes. Psalm 59:9-10
But as for me, I shall sing of Your strength; Yes, I shall joyfully sing of Your lovingkindness in the morning, For You have been my stronghold and a refuge in the day of my distress. Psalm 59:16
I will sing of the lovingkindness of the Lord forever; To all generations I will make known Your faithfulness with my mouth. For I have said, "Lovingkindness will be built up forever; In the heavens You will establish Your faithfulness. I have made a covenant with My chosen; I have sworn to David My servant. Psalm 89:2-3
Arise, cry aloud in the night at the beginning of the night watches; Pour out your heart like water before the presence of the Lord; Lift up your hands to Him for the life of your little ones who are faint because of hunger At the head of every street. Lamentations 2:19
For God so loved the world, that He gave His only begotten Son, that whoever believes in Him shall not perish, but have eternal life. For God did not send the Son into the world to judge the world, but that the world might be saved through Him. John 3:16-17
Links:
SHARE this blog with a friend – click on a social media icon on screen
About our Guest: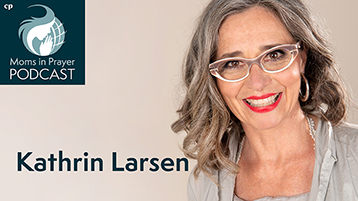 After 20 years of praying with Moms in Prayer, Kathrin Larsen has seen God move countless times and can joyfully testify that He faithfully answers prayer. Kathrin currently serves as the Moms in Prayer Director of Europe and Israel and oversees the ministry and leadership teams in 47 countries. Kathrin and her husband of 36 years have three adult children, one son-in-law, and one adorable granddaughter. They reside in beautiful Switzerland.
FOLLOW the Moms in Prayer Podcast!