"Screen time has replaced much of in-person worship, Christian community, and older role models discipling our youth." Arlene Pellicane talks with us about her book, "Screen Kids" and how too much screen time can impact our children's well-being and faith. With technology that is engineered to keep kids scrolling, Arlene explains how to deal with a child who is on the phone too much and gives you five skills that every child needs in a tech driven world.
The Moms in Prayer Podcast is a part of the Christian Parenting Podcast Network. To find practical and spiritual advice to help you grow into the parent you want to be visit ChristianParenting.org
Scriptures
I have kept my feet from every evil path so that I might obey your word. Psalm 119:101 NIV
But be sure to fear the LORD and serve him faithfully with all your heart; consider what great things he has done for you. 1 Samuel 12:24 NIV
Be angry, and do not sin. Meditate within your heart on your bed, and be still. Psalm 4:4 NKJV
Do everything possible on your part to live in peace with everybody. Romans 12:18 GNT
Because everything will soon come to an end, be sensible and clear-headed, so you can pray. Above all, continue to love each other deeply, because love covers a multitude of sins. 1 Peter 4:7-8 ISV
Links
Arlene Pellicane Happy Home
HappyHomeUniversity Watch the free movie: Screen Kids in Their Own Words
Parents Rising Conference
Books
Moms in Prayer
SHARE this blog with a friend – click on a social media icon on screen
About our Guest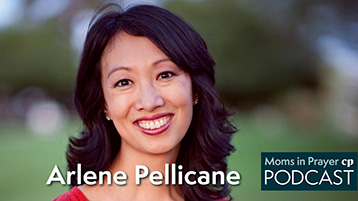 Arlene Pellicane has been honored to speak, write books (translated into over 10 languages), and appear on several media outlets like the Today Show, Wall Street Journal, Focus on the Family, Fox & Friends, TLC's Home Made Simple & FamilyLife Today. She is the host of the Happy Home podcast and has also been on the writing team for Proverbs 31 Ministries and Girlfriends in God. Arlene earned a B.A. from Biola University and a M.A. from Regent University. Before becoming a speaker and author, she served as a features reporter for The 700 Club and associate director for Turning Point with David Jeremiah.
Arlene's happy place is with her husband of 25 years, James, and their three children, Ethan, Noelle and Lucy. She started praying in a Moms in Prayer group when her son Ethan was in first grade and now he is starting college. Arlene and her family live in San Diego with their Goldendoodle named Winston.
FOLLOW THE MOMS IN PRAYER PODCAST