"God is a big God, and your prayers can and will have a global impact." What an important realization about the power of God through prayer! We are continuing our new podcast series, Standing in the Gap, focusing in on some of the amazing intercessors in the Bible. Today, Stacy talks with Jackie Marcum, Moms in Prayer International Director of Finance and Development. Listen in as she shares insights we can learn from a wonderful hero of the faith and an amazing intercessor, Moses.
Scriptures
While the people of Israel were still at Rephidim, the warriors of Amalek attacked them. Moses commanded Joshua, "Choose some men to go out and fight the army of Amalek for us. Tomorrow, I will stand at the top of the hill, holding the staff of God in my hand." So Joshua did what Moses had commanded and fought the army of Amalek. Meanwhile, Moses, Aaron, and Hur climbed to the top of a nearby hill. As long as Moses held up the staff in his hand, the Israelites had the advantage. But whenever he dropped his hand, the Amalekites gained the advantage. Moses' arms soon became so tired he could no longer hold them up. So Aaron and Hur found a stone for him to sit on. Then they stood on each side of Moses, holding up his hands. So his hands held steady until sunset. As a result, Joshua overwhelmed the army of Amalek in battle. Exodus 17:8-13 NLT
I searched for a man among them who would build up a wall and stand in the gap before Me for the land so I would not have to destroy it, but I found no one. Ezekiel 22:30 NASB
For this reason I bow my knees before the Father, from whom every family in heaven and on earth is named, that according to the riches of his glory he may grant you to be strengthened with power through his Spirit in your inner being, so that Christ may dwell in your hearts through faith—that you, being rooted and grounded in love, may have strength to comprehend with all the saints what is the breadth and length and height and depth, and to know the love of Christ that surpasses knowledge, that you may be filled with all the fullness of God. Ephesians 3:14-19 ESV
Moms in Prayer
About our Guest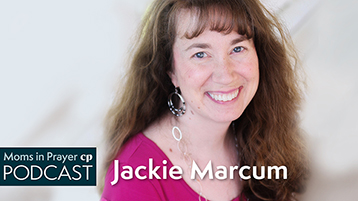 Jackie Marcum is the Director of Finance and Development for Moms in Prayer International. She and her husband Joe have been married for 29 years and have three adult sons who have all been blessed with amazing, godly wives. Jackie is a recent empty-nester still figuring out her hobbies in this new stage in life, but enjoys going on walks with her husband and watching college football (a carryover from her days as a marching band mom). She earned a degree in Biomedical Engineering from University of California San Diego and worked as an engineer before becoming a mom. Jackie is also the founder of Turning Point Pregnancy Resource Center, a licensed medical clinic that provides free services and resources to women in crisis pregnancies.
FOLLOW THE MOMS IN PRAYER PODCAST