"Don't give up on your loved ones; keep praying until God moves." Why? Because God moves through the prayers of His people! Today we begin our new podcast series called Standing in the Gap focusing in on some of the amazing intercessors in the Bible. This week, Stacy welcomes Bunmi Peters to the podcast. Bunmi has been in Moms in Prayer for decades and she has also served many years on the Moms in Prayer International Board of Directors. Listen in as Bumni shares treasure that we can learn from Abraham; treasure that will inspire us to pray with boldness.
Scriptures
Abraham approached him and said, "Will you sweep away both the righteous and the wicked? Suppose you find fifty righteous people living there in the city—will you still sweep it away and not spare it for their sakes? Surely you wouldn't do such a thing, destroying the righteous along with the wicked. Why, you would be treating the righteous and the wicked exactly the same! Surely you wouldn't do that! Should not the Judge of all the earth do what is right?" And the LORD replied, "If I find fifty righteous people in Sodom, I will spare the entire city for their sake." Genesis 18:23-26 NLT
I searched for a man among them who would build up a wall and stand in the gap before Me for the land so I would not have to destroy it, but I found no one. Ezekiel 22:30 NIV
Against all hope, Abraham in hope believed and so became the father of many nations, just as it had been said to him, "So shall your offspring be." Romans 4:18 NIV
Therefore, I urge you, brothers and sisters, in view of God's mercy, to offer your bodies as a living sacrifice, holy and pleasing to God—this is your true and proper worship. Romans 12:1 NIV
Since we live by the Spirit, let us keep in step with the Spirit. Galatians 5:25 NIV
Moms in Prayer
About our Guest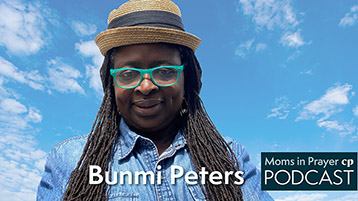 Bunmi Peters has been involved in Moms in Prayer for decades and considers it the most rewarding ministry. She has been married to Tolu for 36 years and they have three grown children and four grandchildren; one is waiting in heaven for them. She has also served for nearly a decade on the Moms in Prayer International Board of Directors. Bunmi has seen many miraculous answers to prayer from the time when she was taught to pray by her parents as a young child to today. She and her husband live in beautiful Tennessee.
FOLLOW THE MOMS IN PRAYER PODCAST