I am a stepmom. I personally prefer the term bonus-mom, and my boys call me Mimi. How cute is that? I'll share with you later about how we landed on that name. But for now, I want you to know how prayer has been a lifeline as a bonus-mom.
When I met my husband 15 years ago, his boys were 1, 3, and 8 years old (now they are 16, 18, and 23). After praying and fasting, I knew God was leading me to marriage. That meant that if I truly believed I was called to marry him, I also had to wrap my head around God calling me to the lives of these children. I didn't have any children prior to marriage and considering our relatively quick courtship (we were engaged in three months, and married within a year of meeting), this "Mimi" thing happened overnight! I went from no kids to three kids, a diaper bag, and car seats! Needless to say, prayer was essential!
No one could have prepared me for the journey of motherhood that I am on. The fears, excitement, insecurities, joys, hurts, disappointments, laughs, tears, and deep love that I have experienced as Mimi has been nothing short of mind-blowing. The rewards have been many and the sacrifices have been great. Add in being diagnosed with stage 3 Non-Hodgkin's Lymphoma in 2013 and being told the chemotherapy treatment could affect my fertility and have other side effects. Thankfully, I am now cancer-free (HALLELUJAH! 10-year anniversary this year)! And despite some years of "trying," I still have not gotten pregnant.
Early in my marriage, God called me to treat the boys as my own. To love without boundaries and despite biology.
As Believers in Jesus, we are adopted into God's family! Ephesians 1:5-6 says, "He predestined us for adoption to himself as sons through Jesus Christ, according to the purpose of his will, to the praise of his glorious grace, with which he has blessed us in the Beloved." I began to pray for them like I did my new husband and my family and friends. The Word reminds us that we are called to love as God loves.
And speaking of love, God then called me to not just pray for my boys but to also pray for their other parents, siblings, family members– everyone that they love! Now let me be honest, this was not as easy as praying for them. I was growing to love my boys, so praying for them was a piece of cake! But now I was being called to pray for their "other" family too? I didn't always do a great job of this in the beginning.
In blended families, it's often the adults in the dynamic that make things the most difficult, but over the years, God softened my heart to pray no matter what. So that means the boys' family, my husband's parents and siblings, and everyone connected to me, including my marriage and our household. We all need Jesus and everyone needs prayer! With this realization, the prayers began to flow. I was burdened to pray, not just for the basics (Lord, keep them safe), but even specifics like job situations, health concerns, relationships, etc.
The concerns of my boys and husband for their loved ones became mine.
Unfortunately in many marriages, and definitely in blended families, the adults and children may not share the same faith or be on the same page about what's best. What can you do? Pray! Pray with your whole heart. Believe that God knows what is truly best and that prayer matters. God loves your children and your family more than anyone! Your prayers can change hearts, situations, and circumstances. Please do not underestimate the power and authority you have in prayer and godly living.
Data from 2018 claims that around 40% of births in the USA occur outside the covenant of marriage. Combine that with the challenging divorce rates and the intentional attack of the enemy on marriage and families, and you realize that we are in a war! This is a charge for us as praying moms to continue to pray for our children and family and the children and families of those God connects us to.
I want to encourage all moms, and especially bonus-moms, to pray and pray hard for the ones God has given you to love! Whether you are a bonus-mom due to marriage, re-marriage, adoption, or even parenting the children of loved ones unable to care for their children at this time, God sees you and is calling you to be the person to model the impact of prayer and faith in the situation!
In my Moms in Prayer (MIP) group, we've seen God do great things! MIP Philly moms have seen depression lifted from our kids, divine favor with teachers, professors, coaches and supervisors, addictions broken, and even bridges mended within family relationships! It is a consistent reminder that God is always moving and prayer does change things.
I have seen God do miracles in the lives of my boys and I am excited and grateful to partner with God in prayer as His will for their lives unfolds.
Keep praying and keep believing!
How has your family changed through prayer? Comment below.  
MOMS IN PRAYER
SHARE this blog – click on a social media icon on screen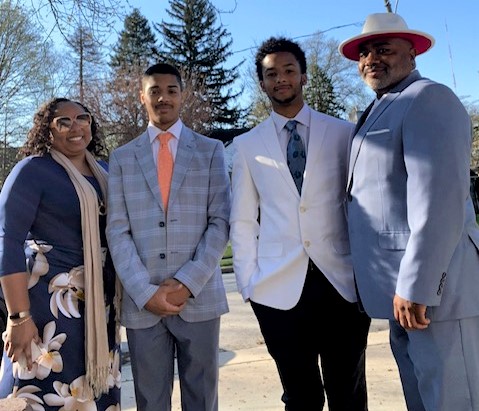 Jamila A. Davis is a wife, mother, communications professional and most importantly, a believer in Jesus! Jamila received a bachelor's degree in Interpersonal Communication with a minor in Fashion Merchandising/Textiles & Clothing from The Ohio State University. She has been working in the fields of Community Relations, Marketing, Promotions, and Public Relations for more than 23 years. She has also served in various ministries and capacities within the local church. In 2019, Jamila received a Biblical and Life Breakthrough Coaching certification from Life Breakthrough Academy. In recent years, Jamila has become more involved in the First Responders Wives Ministry of Navigators and the Philadelphia chapter of Moms in Prayer. Jamila is married to a police officer and bonus-mom to three growing young men.