"There was a deep, rich undertone of how Jesus would guide my mother to pray for me in the hardest times of my life." Today Stacy welcomes Pastor Aaron Szloboda to the podcast. You won't want to miss a moment as Aaron shares his journey from prodigal to pastor, a journey that spans through the countries of Israel, Canada, United States, and Mexico. Listen in to this inspirational testimony that speaks so beautifully to the unfailing love of our Savior, His amazing grace, and the power of praying moms. Is anything too hard for the Lord?
SCRIPTURE: NKJV unless noted
How can a young man keep his way pure? By keeping your word. Psalm 119:9 CSB
For God says, "At just the right time, I heard you. On the day of salvation, I helped you." Indeed, the "right time" is now. Today is the day of salvation. 2 Corinthians 6:2 NLT
Now to Him who is able to do exceedingly abundantly above all that we ask or think, according to the power that works in us. Ephesians 3:20
Jesus said to him, "If you can believe, all things are possible to him who believes." Immediately the father of the child cried out and said with tears, "Lord, I believe; help my unbelief!" Mark 9:23-24
Rejoice with those who rejoice, and weep with those who weep. Romans 12:15
And as Peter knocked at the door of the gate, a girl named Rhoda came to answer. When she recognized Peter's voice, because of her gladness she did not open the gate, but ran in and announced that Peter stood before the gate. But they said to her, "You are beside yourself!" Yet she kept insisting that it was so. So they said, "It is his angel." Now Peter continued knocking; and when they opened the door and saw him, they were astonished. Acts 12:13-16
The LORD bless you and keep you; the LORD make his face to shine upon you and be gracious to you; the LORD lift up his countenance upon you and give you peace. Numbers 6: 24-26 ESV
Moms in Prayer
About our Guest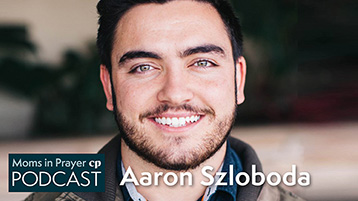 Aaron Szloboda is the young adults pastor at Calvary San Diego. He is currently working toward a Masters of Divinity from Biola University. He and his wife Alexis have two adorable boys, David and Nathan.

FOLLOW THE MOMS IN PRAYER PODCAST