"Every mom no matter her language, race, or socio-economic status wants prayer for her children and the school they attend." Today Stacy sits down with Moms in Prayer Board Chair and Ambassador to South America, Michelle Kvandal. Listen in as Michelle shares what the Lord has done through her travels all over the world, not only sharing Moms in Prayer but also caring for orphans and widows in their distress through the ministry Su Refugio, which she co-founded with her husband Scott.
Scriptures: (NLT)
Pure and genuine religion in the sight of God the Father means caring for orphans and widows in their distress and refusing to let the world corrupt you. James 1:27
This I declare about the LORD: He alone is my refuge, my place of safety; he is my God, and I trust him. Psalm 91:2
Let each generation tell its children of your mighty acts; let them proclaim your power. I will meditate on your majestic, glorious splendor and your wonderful miracles. Your awe-inspiring deeds will be on every tongue; I will proclaim your greatness. Psalm 145:4-6
I give them eternal life, and they will never perish. No one can snatch them away from me. John 10:28
Links:
Moms in Prayer:
SHARE this blog with a friend – click on a social media icon on screen
About our Guest: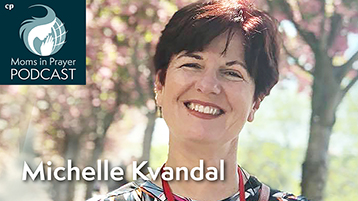 Michelle Kvandal has a passion for discipling women. After a 20-year career in engineering marketing, she began conducting "Women Discipling Women" training conferences in Argentina, Ecuador, Paraguay, Peru, Portugal and the United States. The Lord then expanded Michelle's training ministry to teach women how to start Moms in Prayer International groups. She now serves as Chairperson for the Board of Directors and South American Ambassador for Moms in Prayer. Michelle and her husband Scott Kvandal founded Su Refugio Ministries, an international ministry for the glory of God that cares for orphans and widows in their distress. They lead short-term overseas mission trips several times a year. They are members of Tri-City Bible Church in Vista, California where Michelle serves in Women's Ministry. Scott and Michelle have four adult children.
FOLLOW the Moms in Prayer Podcast!