"No matter how difficult or sad the situation in your child's life may be, the power of God's Word can change everything." Today Stacy talks with Moms in Prayer Europe & Israel Director, Kathrin Larsen, about persevering in prayer. Listen in to powerful encouragement to not give up because as we pray the Word of God, we can see a bright and beautiful future for the next generation. Kathrin also shares a testimony from Greenland where school children heard the gospel and a student was healed.
Scriptures (NIV)
But as for you, be strong and do not give up, for your work will be rewarded. 2 Chronicles 15:7
David said to the Philistine, "You come against me with sword and spear and javelin, but I come against you in the name of the LORD Almighty, the God of the armies of Israel, whom you have defied. 1 Samuel 17:45
There is no fear in love. But perfect love drives out fear, because fear has to do with punishment. The one who fears is not made perfect in love. 1 John 4:18
David was greatly distressed because the men were talking of stoning him; each one was bitter in spirit because of his sons and daughters. But David found strength in the LORD his God. 1 Samuel 30:6
Links
Moms in Prayer
About our Guest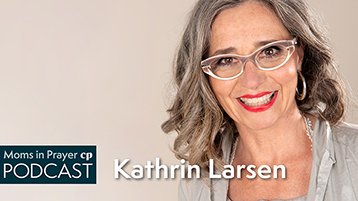 After 20 years of praying with Moms in Prayer, Kathrin Larsen has seen God move countless times and can joyfully testify that He faithfully answers prayer. Kathrin currently serves as the Moms in Prayer International Director of Europe and Israel and oversees the ministry and leadership teams in 47 countries. Kathrin and her husband of 36 years have three adult children, one son-in-law, and one adorable granddaughter. They reside in beautiful Switzerland.
FOLLOW THE MOMS IN PRAYER PODCAST