I used to be hesitant to pray and kind of stumbled over my words when talking to God. Yet, I desperately wanted to say the right things because I thought if I prayed the right way God would listen and answer my prayers, the way I wanted Him to.
Eventually I got the courage to talk with a friend about my fears and struggles. She assured me I was normal, and shared how she had dealt with the same hesitancies and misunderstandings about prayer. She also walked with me through Bible, showing me verses about prayer and encouraging me to talk to God in a conversational way.
That was over twenty years ago and I still hold tight to two powerful lessons I learned:
Prayer isn't about saying the right things—it's about building a relationship with God by talking to Him.
If you've ever struggled with what to say when you pray, take a deep breath and know you are not alone. There is no formula to getting prayer right and God isn't listening for the perfect combination of words or measuring how well we pray.
Yet there are still days like today when I want more power in my prayers. Days when I want to feel more confident in what I'm asking for from the One who rules our nations, the Maker of all things, the Shepherd of my heart, and the Creator of the ones I love.
When we pray God's Word, we pray God's will. On those days, when I'm not sure what to say or how to pray, I turn to God's word remembering "the confidence which we have before Him, (is) that, if we ask anything according to His will, He hears us." 1 John 5:14 (NASB)
On those days when I long for my prayers to be filled with power and my heart to be infused with faith, I look for verses about God's will and His ways. One is Hebrews 4:12, where God teaches us that His Word is "alive and active." Some days I pray that truth, asking God to make His Word come alive in a situation and active in the person's life I'm praying for, or my own.
Other times, while I'm praying, verses in the Bible that I've memorized will rise up to the surface in my prayers. When it feels like my plans are spinning out of control, Jeremiah 29:11-13 will come to mind. And on those days, I'll pray:
Lord, You know the plans You have for me, plans to prosper me and not to harm me, plans to give me a future and a hope. You say that if I come to You and pray, You will listen and will lead me. So, today I surrender my plans for Your plans. Please guide my decisions and thoughts to match Yours so I can experience hope and not harm. Even though things aren't going so great today, I trust the plans You have for me.
I'm so grateful for the grace-gift of talking to my Heavenly Father without hesitancy.
Now that the pressure to say the right things is gone, prayer feels more like a comfortable conversation. Sometimes I just sit still and let God whisper His promises into my thoughts, and then I ask for their fulfillment in my prayers.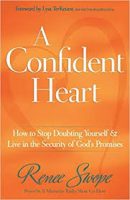 For a list of powerful scriptures to pray, download my FREE Scripture Prayer Printable. Also, I'd love to share my book, A Confident Heart, with you! It's packed with scripture prayers and promises! And the e-Book is on SALE for only $ .99 today!

Hear Renee speak at Unshaken Blue Ridge November 2-4, 2018. Find out more and register!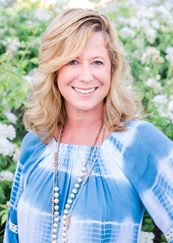 Renee Swope is the best-selling author of A Confident Heart and former co-host of Proverbs 31 Ministries' radio program, "Everyday Life with Lysa & Renee." Renee also served on staff with  Proverbs 31 Ministries as an Executive Director for over 20 years. Her passion is to equip and empower you with tools to embrace your God-given gifts, potential, roles and relationships, challenging assignments and unique callings so you can confidently make a difference, right where you are with what you already have.