Georgia State Coordinator, Amy Conrod
Hello Georgia ladies!
There are amazing women all across this beautiful state hoping you will join them in this powerful hour of prayer. This ministry of hope has been one of the greatest blessings in my life and I'd love to help you get involved. There is something incredibly powerful and life-giving that happens when we pray together in agreement using God's Word. Burdens are lifted and lives are changed, including our own. My hope is that every school in Georgia would be covered in prayer including every child, teacher, and administrator. God is on the move and He invites us to join Him in changing hearts and lives for eternity through prayer!
I would love to hear from you. If you're not in a Moms in Prayer group yet, you need to get connected!
Experience another mom praying for your child and the joy of seeing God at work in your child's school.
You can reach me at: GA@MomsInPrayer.org
My Moms in Prayer Story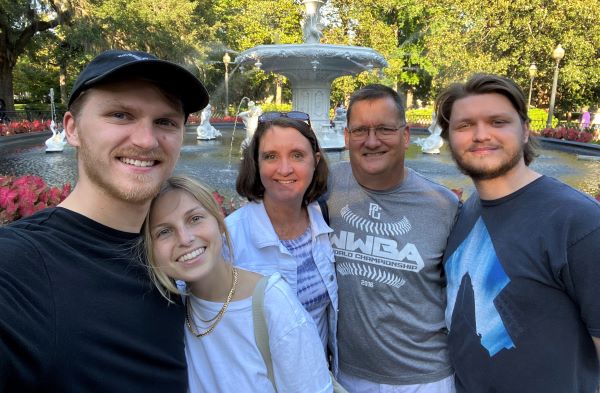 When my two sons were beginning elementary school, I had such a burden to pray for them. Both had severe food allergies, so sending them off to school was a big step for me. I heard about Moms in Prayer on the radio and was so grateful to start praying regularly with another mom for our boys and their school.
As I've prayed through the years, God has grown my faith and taught me how to release my worries into His capable hands. I am truly grateful for every woman God has brought into my life through this ministry. There's nothing like prayer to unite our hearts together. Each season has brought new opportunities to depend on the Lord. God has answered so many prayers through the years for my sons, now young adult men. He has protected them numerous times, brought a wonderful daughter-in-law into our family, and has sustained, strengthened, and surrounded them with godly friends along the way. God continues to change me as I lift my burdens up to him. Learning to begin with praise, silently confess, celebrate God's answers, intercede scripturally and in "one accord," has truly been life-changing. Prayer is one of the greatest gifts we can give our children and their schools. I invite you to join this amazing sisterhood of praying mamas rising up in Georgia and around the world!
Now to Him who is able to do immeasurably more than all we ask or imagine according to His power that is at work within us, to Him be the glory in the church and in Christ Jesus throughout all generations, forever and ever! Amen. Ephesians 3:20-21 (NIV)
What's your Moms in Prayer story? If you don't have one yet, make sure to connect with a Moms in Prayer group now.

You can reach me at: GA@MomsInPrayer.org