Arizona State Coordinator, Carol Eiserman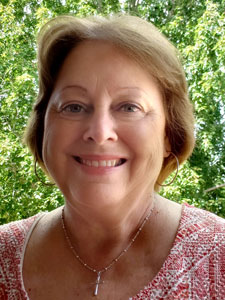 Welcome to Moms in Prayer, women of Arizona!
My prayer is that God will sustain our Moms in Prayer groups until Jesus returns and for new groups to pop up all over our state until every school is covered. I look forward to hearing more stories from women who have discovered the joy of praying for their children and listening to their prayer partners pray for their child or grandchild. This, along with praying scripture for our children, is my favorite part of the Moms in Prayer hour. Putting your child's name in a scripture verse and claiming this verse for that child, is how we impact our children and grandchildren for Christ!
Experience another mom praying for your child and the joy of seeing God at work in your child's school.
You can reach me at: AZ@MomsInPrayer.org
My Moms in Prayer Story
Moms in Prayer, A Lifeline
The definition of lifeline (according to Webster's Dictionary) is a line to which persons may cling, to save or protect their lives. That is what I was looking for when I heard Fern Nichols talk about praying moms on Focus on the Family. I was a working mom with the desire to raise our two young children to love the LORD and I knew prayer was the answer! I just needed someone to come alongside me. I found my first prayer partner at my son's soccer field (if you're seeking, God will help you), and my journey with Moms in Prayer began. God met me there and has walked with me every step of the way. "The LORD is my strength and my song; he has given me victory." (Psalm 118:14, NLT)
I want that for you, too. Join with one other mom to pray for your child(ren), and God will meet you there! Moms in Prayer will be your lifeline direct to the Father, allowing you to talk to God about the challenges and trials we face as we parent our children and show Christ's love to our grandchildren.
What's your Moms in Prayer story? I would love to hear it! If you don't have one yet, make sure to connect with a Moms in Prayer group now.
You can reach me at: AZ@MomsInPrayer.org