North Carolina State Coordinator, Heidi Fromke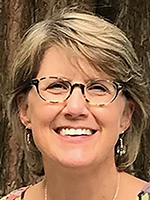 What a privilege and gift we have in prayer! If you are a follower of Christ, you have access to this remarkable gift which God has chosen to use to accomplish His work on earth. Wow! It is absolutely more than we can wrap our minds around. We truly just have to trust and obey Him as we bring our requests before him in humility. He is at work!
I would love to have you join me and our wonderful Moms in Prayer team as we pray for God to move the hearts of moms across the state of North Carolina to pray. And for those who are already in a Moms in Prayer group, to pay attention to the opportunities He gives us to share the ministry with those He brings across our path.
For we are God's handiwork, created in Christ Jesus to do good works (like prayer!), which God prepared in advance for us to do. From Ephesians 2:10 (NIV)
I would love to hear from you. If you're not in a Moms in Prayer group yet, you need to get connected! Experience another mom praying for your child and the joy of seeing God at work in your child's school.
You can reach me at: NC@MomsInPrayer.org
My Moms in Prayer Story
Learning to hold our kids loosely and trust God with them is a daily challenge which I found to be especially true when my boys were just beginning school. It was during this time of trying to "let go" a bit that I found Moms in Prayer after hearing Founder, Fern Nichols, on the radio.
The Lord encouraged me to start a Moms in Prayer group at my sons' school in 2003. I prayed with this group for 17 years with other moms who joined me in covering my boys, their kids and our school community. We lifted our requests to God and saw Him do immeasurably more than we could ask or imagine as He walked with us through a son's illness, Young Life established at the school, and students' hearts turned to Christ. I have come to know the Lord in an amazingly intimate way as He has shown me His love for my boys and that He truly can be trusted above all else.
I have been married to Mark, who has filled my days with laughter since 1990. We have three boys in their twenties and two amazing daughters-in-law! After growing up in Minnesota and spending a few years in St. Louis, we have fallen in love with North Carolina and I am so looking forward to watching God work as He draws other moms to experience His power, grace and loving acceptance through prayer!
What's your Moms in Prayer story? I would love to hear it! If you don't have one yet, make sure to connect with a Moms in Prayer group now.
You can reach me at: NC@MomsInPrayer.org