Appalachian Division Coordinator, Heidi Fromke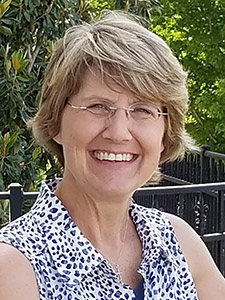 I am so thankful for what God is doing in our Appalachian Division states of Kentucky, North Carolina, Tennessee, Virginia and West Virginia!
God has given us such a gift and privilege in prayer! As we gather in our Moms in Prayer groups for one hour each week, amazing things happen. We open his Word and spend time praising him, confessing to him, thanking him and asking him to work in the lives of our children and their school communities.
He does so much more than we could ever ask or imagine! He changes our hearts as he reveals more of himself to us through praise, and he mightily moves in the circumstances and hearts of those for which we pray. An added bonus is how he knits our hearts together as we pray for one another's children. What a gift!
---
---
---
Experience another mom praying for your child and the joy of seeing God at work in your child's school.
You can reach me at: Appalachian@MomsInPrayer.org
My Moms in Prayer Story
Learning to hold our kids loosely and trust God with them is a daily challenge which I found to be especially true when my boys were just beginning school. It was during this time of trying to "let go" a bit that I found Moms in Prayer after hearing Founder, Fern Nichols, on the radio.
The Lord encouraged me to start a Moms in Prayer group at my sons' school in 2003. I prayed with this group for 17 years with other moms who joined me in covering my boys, their kids and our school community. We lifted our requests to God and saw Him do immeasurably more than we could ask or imagine as He walked with us through a son's illness, Young Life established at the school, and students' hearts turned to Christ. I have come to know the Lord in an amazingly intimate way as He has shown me His love for my boys and that He truly can be trusted above all else.
I have been married to Mark, who has filled my days with laughter since 1990. We have three boys in their twenties and two amazing daughters-in-law! After growing up in Minnesota and spending a few years in St. Louis, we have fallen in love with North Carolina and I am so looking forward to watching God work as He draws other moms to experience His power, grace and loving acceptance through prayer!