Rhode Island State Coordinator, Maureen Stott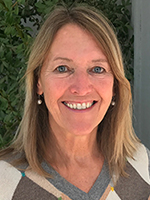 I joined the first Moms in Prayer group in my town in 1998. Despite several moves since, I always made time for praying weekly with other moms. You will be amazed at how praying regularly in one accord with other women will grow your love, knowledge and appreciation for the Lord. Our four step format where we highlight a particular attribute or characteristic of God using Scripture, will help strengthen your faith by lifting your eyes to the Living God.
I would love to hear from you. If you're not in a Moms in Prayer group yet, you need to get connected! Experience another mom praying for your child and the joy of seeing God at work in your child's school.
You can reach me at: RI@MomsInPrayer.org
My Moms in Prayer Story
It has been a blessing to watch God work in our children's lives and school community as we intentionally prayed in our Moms in Prayer group. My daughter helped launch the first Young Life campus ministry in her high school, bringing several of her friends to saving faith and deepening her own faith. This school ministry is still being prayed for by Moms in Prayer! My desire is to spread the word to all moms throughout MA to "taste and see that the Lord is good!" Psalm 34:8a.
I have been married to Dave since 1981. We have three wonderful grown children. Nicole, married to Chris, are the parents of 4 adorable girls. Our son Ryan is a lawyer living in New York City and our youngest daughter Amy, married to John, recently welcomed their second son. Dave and I relish spending time with family and being grandparents. We also enjoy traveling, playing tennis and sailing in Rhode Island.
What's your Moms in Prayer story? I would love to hear it! If you don't have one yet, make sure to connect with a Moms in Prayer group now.
You can reach me at: RI@MomsInPrayer.org