Kentucky State Coordinator, Naomi Sinclair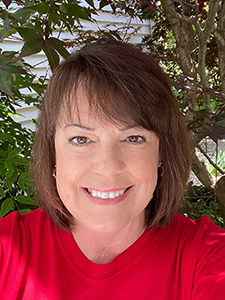 I am so glad you're reading this because I want to share with you the joy of praising God. His word says, LORD, you are my God; I will exalt you and praise your name, for in perfect faithfulness you have done wonderful things, things planned long ago (Isaiah 25:1). Moms in Prayer has taught me to praise God using scripture. I have learned so much about who He is because we begin our time of prayer by praising Him out loud together. Now those attributes are tucked away in my heart and mind and I'm able to fall back on them in times of doubt and fear. I want you to have this same treasure!
God has been so faithful to hear and answer the prayers of my Moms in Prayer groups. During my daughter's junior year in college, she decided to change her major. She missed the deadline for applying to dental hygiene school by three days and even if she was able to apply, it would mean an additional year in college. My Moms in Prayer group joined me in praying for God's will to be done and if He wanted her to change majors, He would make a way. She was able to apply and was accepted. She's now about to hit her one-year mark of being employed as a dental hygienist and she is a good one. I am so thankful for my group who prayed for my daughter through that difficult time!
I would love to hear from you. If you're not in a Moms in Prayer group yet, you need to get connected! Experience another mom praying for your child and the joy of seeing God at work in your child's school.
You can reach me at: KY@MomsInPrayer.org
My Moms in Prayer Story
This ministry has forever changed my life for the good. It has taken me from a timid, shy person to someone who knows she is filled with the knowledge and power of God. I have also formed some of the most precious friendships with ladies that I have prayed with over the years. I want the same things for you…to not only find comfort in praying with other moms for your children and their school(s), but to experience the power and joy of knowing who God is by praying His word in one-accord prayer.
I am married to Steve and we live just outside of Bowling Green in Alvaton, Kentucky. We have two grown daughters, a son-in-law, and a future son-in-law who have all been blessed by many moms praying over them. I am so fortunate to be serving as your state coordinator. In my spare time I like to cook, garden, read, travel and play with my cats.
I would love to tell you more about Moms in Prayer and help you get started to pray for your child(ren) and experience all of God's unexpected blessings!
What's your Moms in Prayer story? If you don't have one yet, make sure to connect with a Moms in Prayer group now.
You can reach me at: KY@MomsInPrayer.org