Northeast Division Coordinator, Pat Kenney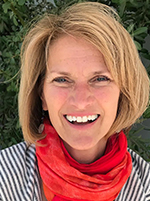 If you are a mom in the Northeast corner of the United States, you will be blessed by what you see and hear on this website. Moms in Prayer moms are just like you! They have a burden for the lives of their children and the school environment in which they spend most of their days. They desire their children to love the Lord with all their heart, soul, mind and strength. And they desire the schools they attend to be guided by biblical principles.
I believe the most important thing we can do as moms is to pray for our children and schools. Our children are impacted by the ungodly spiritual forces in our world. How do we as moms combat that? PRAYER! Powerful one accord, agreement prayer. It is a privilege to scripturally pray into the lives of our children through our simple Moms in Prayer 4 Step format.
I would love to hear from you. If you're not in a Moms in Prayer group yet, you need to get connected! Experience another mom praying for your child and the joy of seeing God at work in your child's school.
You can reach me at: Northeast@MomsInPrayer.org
CT, MA, ME, NH, NY, RI, VT
My Moms in Prayer Story
Through my Moms in Prayer group over the years, I have witnessed my prodigal daughter return to the Lord and school curriculum altered or enhanced to include biblical values. And as I prayer-share my burden for my children with other moms, our God of hope fills my mom-heart with peace beyond all understanding.
I have been married for 37 years and we have three adult daughters, one 'son in love' and a beautiful granddaughter. I enjoy tennis, running and reading. My 'sweet spot' is equipping moms to pray powerfully for their children and schools.
My desire is that the Lord would raise up two or more moms to pray for every school in your town, state and across the Northeast. I would be delighted to help you connect with other praying moms or guide you to begin your own Moms in Prayer group. Join us as we impact this next generation of children and grandchildren for Christ through intentional prayer!
For the eyes of the Lord are on the righteous and his ears are attentive to their prayer.  1 Peter 3:12a NIV
What's your Moms in Prayer story? If you don't have one yet, make sure to connect with a Moms in Prayer group now.
You can reach me at: Northeast@MomsInPrayer.org
CT, MA, ME, NH, NY, RI, VT